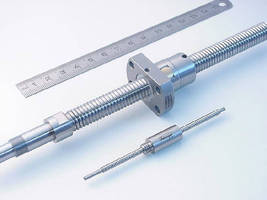 Available with 0.5-3 mm leads, 5 mm Miniature Ball Screws come in 4 nut styles. Single nut Series 1112 has connecting thread without wipers, while single nut Series 1412 has double flange and wipers on both ends, and Series 1214 consists of cylindrical nut without wipers. Using end-cap ball returns manufactured from plastic rather than metal tubes, single nut Series 2422 is virtually noiseless....
Read More »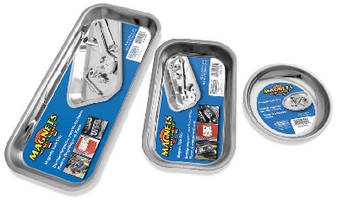 Available in 14 x 6.25 x 1.5 in. rectangle, 9.5 x 5.6 x 1.5 in. rectangle, and 6 x 1.25 in. round sizes, Magnetic Parts Trays are suited for any project involving assembly and disassembly with small metal parts. Trays feature corrosion-resistant stainless steel construction and permanent magnets covered with rubber footing to prevent scratching and damage to surfaces. They can be used...
Read More »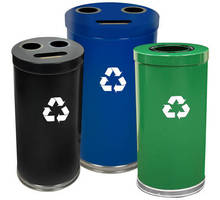 Allowing either 1 or 3 separate stream recycling to be collected within small area, RT metal containers are available in 15 or 18 in. for collection of paper, clear plastics, glass, and other recyclable materials. Each recycling stream is collected in separate heavy-duty plastic liner. One-opening 15RT includes single 24 gal liner, while 3-stream version comes with three 8 gal liners. One-opening...
Read More »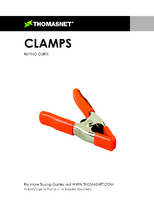 Do you know whether you need a hand, hose, pipe, cable or ground clamp for your project? What about the grip range? If you're unsure, download this buying guide all about clamps to help you find the right clamp for your project.
Read More »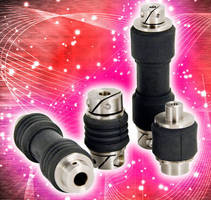 Neo-Flex couplings include Short Series V50FSR and V50FSRM models as well as Long Series V5DFLR and V5DFLRM versions. They are manufactured from 73 durometer molded neoprene with 303 SS hubs and are offered with conventional pin type hubs which use set screw for fastening. Fairloc® versions include integral hub fastener which eliminates marred shafts. Couplings also offer shaft-to-shaft...
Read More »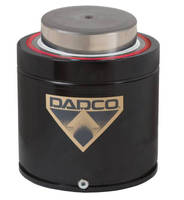 Available with 195 mm dia body and stroke lengths from 25-200 mm, 22-ton Ultra Force Extended® Series Model UX.20000 nitrogen gas spring fits 10 ton ISO standard size full height gas spring envelope. Unit incorporates UltraPak® cartridge technology, which is comprised of bearing and seal constructed to extend gas spring life. UX.20000 has linking capability through its G 1/8 port, and comes...
Read More »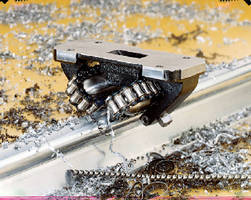 Featuring all steel and iron construction, 4 in. RoundWay® RW64-V provides dynamic load capacity of 70,000 lbf at operating temperatures up to 500°F and speeds up to 100 fps. Round shaft enables bearing to rotate, eliminating potential for induced torsional stresses. In addition to concave rollers with 10 million inch L10 rated travel life, bearing features eccentric trunion pin that enables...
Read More »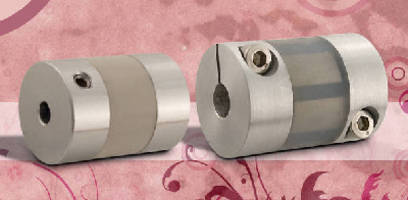 Stocked in 5 bore sizes from 6-16 mm, silicone insert couplings feature electrical isolation and no backlash. Series S54HSAM... (clamp type) and S5PSAM... feature aluminum hubs with set screws or clamps for fastening to shafts. Insert is silicone 40 ShA, and coupling design can accommodate tight or skewed connections. Characteristic include operating range of -50 to +150°C, lengths from 26.5-57...
Read More »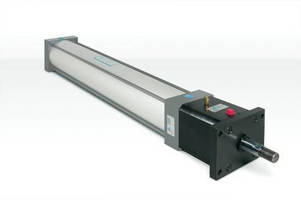 AMLOK® type RLN Power-Off Rod Lock avoids control problems such as overtravel, drifting, bouncing, and reverse traveling. Mounted to NFPA cylinder or used stand alone, it is constructed of black anodized aluminum housing with piston and wedge locking mechanism actuated by multiple springs, which mechanically lock rod securely. Clamp is unlocked when air actuates piston, compresses spring, and...
Read More »
Heavy-duty T4 Series nitrogen gas springs are available in 5 models with contact forces from 9,200-95,000 N and full stroke forces from 14,900-148,000 N. Each incorporates flexible guide, engineered to absorb sideload and lower guide temperature, and flexible piston ring for additional guidance. Units are designed to allow gas to vent safely in case of overpressure, overload, or overstroke. Side...
Read More »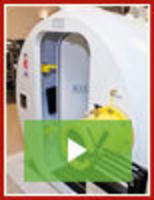 Tekna is a leader in Monoplace and Multiplace Hyperbaric Chambers for Hyperbaric Oxygen Therapy (HBOT), offering products that set the standard for quality and innovation. Our new 7200 series of multiplace chambers is a state-of-the-art system that integrates advanced engineering with a plethora of features and options making it the industry's premier HBOT system. To learn more, see our video.
Read More »