Constructed of elastic material, Way Wipers keep slide ways clear of swarf, dust, and other abrasive materials found in workshop environments. Synthetic rubber material is resistant to mineral oils and cooling emulsions and features vulcanized metal reinforced facing. Silicone rubber wipers and wipers without metal facing are also available to accommodate unique requirements. Available in...
Read More »
In this eBook, discussed are the factors to consider when choosing the right safety grating for your application and details about the varieties offered by Metalex.
Read More »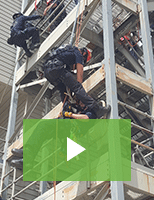 Elite Technical Services provides your company with qualified and experienced safety experts. Specializing in confined space and high-angle technical rescue and jobsite hazard assessment, your workplace safety is the top priority. Check out the video to learn more.
Read More »