Main contractor is announced for massive baggage handling installation at major new US$ 7.5 billion Middle East airport Date: 12/03/2007 FKI Logistex-®, a global leader in integrated material handling solutions, has won its largest baggage handling order ever - a US$ 123 million complete system and US$ 67 million five-year, full service and maintenance contract - for the New Doha International...
Read More »
This e-book is a sourcing guide for Baltic Birch plywood.
Read More »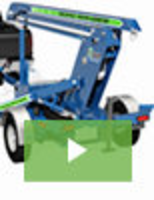 Providing adequate fall protection is always a critical consideration and one that in many cases can be difficult to ensure. The new Mobile Fall Protection Unit is designed to facilitate positive fall protection in applications that would typically be difficult or impossible to provide with standard methods. To learn all about the advantages and convenience, see our video.
Read More »