Fusible Link Assemblies, for Series 3000 Valves, utilize cam placed on top of spring pack rather than fixed loaded arm. Low Torque Series, ranging from 0-150 lb-in., uses valve handle to arm fusible link assembly. Mid Torque Series, ranging from 160-830 lb-in., uses detachable arming handle to arm link assembly, and High Torque Series, ranging from 835-21,000 lb-in., uses declutchable manual...
Read More »
In this eBook, discussed are the factors to consider when choosing the right safety grating for your application and details about the varieties offered by Metalex.
Read More »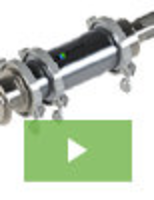 As a leader in industrial sampling equipment at Sentry Equipment, our success is built on a history of innovation and designs that epitomize value and efficiency. The new Hygienic Automatic Sampler is another example of our dedication to developing quality engineered products. To learn how this product can streamline the sampling process for dry, free-flowing materials, see our new video.
Read More »