Fusible Link Assemblies, for Series 3000 Valves, utilize cam placed on top of spring pack rather than fixed loaded arm. Low Torque Series, ranging from 0-150 lb-in., uses valve handle to arm fusible link assembly. Mid Torque Series, ranging from 160-830 lb-in., uses detachable arming handle to arm link assembly, and High Torque Series, ranging from 835-21,000 lb-in., uses declutchable manual...
Read More »
This white paper provides an in-depth look into how robots can play a role in helping companies succeed in the COVID-19 world.
Read More »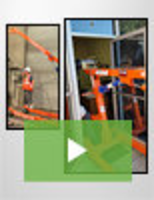 EZRig Cranes offers lifting solutions that are engineered for robust performance, providing the ultimate in portability. Designed for real-world lifting needs, our products are small and light with options and features that make them ideal for a broad range of applications. See our video to learn how an EZRig Crane can simplify your lifting requirements.
Read More »