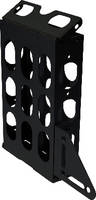 Measuring 11 x 7 x 2.375 in., Model DS-CH is designed to attach digital signage media player to wall or ceiling mount. Unit attaches to mounting rails in landscape or portrait positions to hide behind flat panel. Holder works in conjunction with VMP models FP-LDSB, PDS-LC, and PDS-LFT, as well as most other manufacturers' mounts which have sufficient clearance for box.
Read More »

Designed for multimedia and displays industry, Expand MonitorStand can be used as freestanding monitor holder, or can be completely or partially integrated with Expand 2000. Pole is available in heights of 48 1/16, 68 7/8 and 76 3/4 in., and weighs 6.2-9.25 lb. Foot, including adaptors and fastening device, weighs 28.2 lbs. Pole is made of aluminium while foot is constructed of cast iron with...
Read More »
With technology evolving at such a fast pace, the Rousseau LCD Monitor Holder / LCD Monitor Holder with keyboard offer an easy and effective way to incorporate new technology into your work area. Compatible with the majority of LCD monitors on the market, you can choose to have it wall-mounted or clipped onto our multi-purpose stand. Instantly increase your workspace by simply removing your...
Read More »