MENOMONEE FALLS, Wis. - Magnetek, Inc. has been awarded contracts to supply its Mondel Braking Systems for 10 heavy moveable bridge projects located across the United States. The orders, valued at $800,000, are for bridges located in New York, Chicago, Atlantic Beach, N.Y.; West Palm Beach, Fla.; Cleveland, Ohio; Elizabeth City, N.C.; Wrightsville, N.C.; Gloucester, Mass.; and LaRosa, La. The...
Read More »
Electric motors and generators are essential components for mining industry equipment and the Battery Electric Vehicle (BEV) market. These sectors rely upon this equipment heavily to meet high production demands in rugged environments, and so they require careful design, construction, and maintenance to provide longevity and durability. Pumps, hoists, crushers, muckers, haulers, and mills are only some examples of mining and milling equipment utilizing electric motors.
Read More »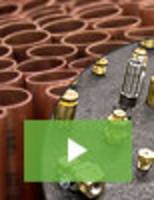 As a trusted manufacturer to customers across a broad range of industries, Key Gas Components is a premier provider of CNC machining and tube fabrication. Our entire organization is quality driven and customer-centric, with broad-based manufacturing capabilities that can accommodate the most challenging requirements. See our video to learn more.
Read More »