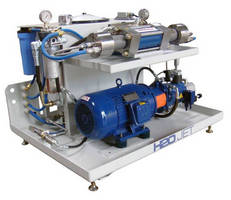 Intended for pure water jet cutting applications, Baseline BL-I10 pump and pressurized delivery system targets OEMs whose customers need flow rate and pressure for processing soft materials such as paper, foam, plastic, rubber, gaskets, textiles, and food. It is powered by integral, electric motor-driven, hydraulic pump feeding high-pressure circuit. Intensifier supplies water at 50,000 psi...
Read More »
Designed to fit in back of standard Work Ready truck body, Mobile Lube Skid is available in various configurations with corrosion-resistant aluminum tanks that provide 240-gal capacity. System uses air piston pump for oil and grease and air diaphragm pump for antifreeze. Each hose reel contains 50 ft of hose and has metered dispenser. For portability, skid includes 4 pockets on front side and 4...
Read More »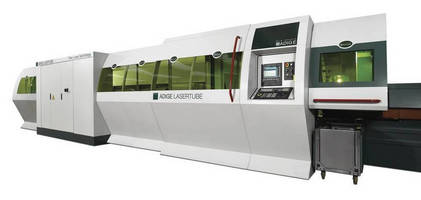 LT FIBER employs 2 kW IPG fiber laser source that enables system to efficiently process highly reflective materials. It also promotes productivity when working with galvanized steel and thin-walled tubes. Depending on chosen configuration, system accommodates tubes up to 6 in. dia with max raw tube lengths of 256-335 in. Automated changeover to different size tubes occurs in as little as 3 min,...
Read More »
With barcode scanning interface, SpeedyPacker Insight® let customers utilize existing unique product identification barcode to automatically initiate pre-programmed package design and cushion sequence. Automated process minimizes potential for both under packaging and over packaging. To program system, companies input design and sequence information into spreadsheet, which is then uploaded...
Read More »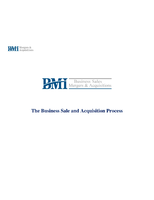 To learn more about BMI Mergers & Acquisition's 15-step plan, and how they can help you sell your business, download this white paper now.
Read More »
MOUNDRIDGE, Kan. - Custom Rollforming Corp. (CRC), located in Moundridge, Kansas is a leading manufacturer of custom roll-formed products, recently supplied specially designed solar racking for a 300 kilowatt solar farm at Southwest Baking located in Tolleson, AZ. The assignment given Custom Rollforming Corp. by the solar farm contractor, GREEN FUEL Technologies, was to provide a durable racking...
Read More »
Barcelona, Spain - 5 July 2011. Until now, 3D Compasses have typically used non-standard technologies such as magneto-resistive materials or Hall-effect structures combined with magnetic field concentrators to detect the direction of the Earth's magnetic field. Baolab Microsystems is first to design a pure CMOS Lorentz force MEMS sensor and, as a result, its new 3D Digital NanoCompass(TM) matches...
Read More »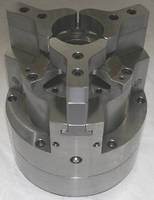 Island Park, NY... Northfield Precision Instrument Corporation, a leader in the design and manufacture of precision workholding chucks, introduces their special Model 6100 3-jaw air chuck. With .0005 T.I.R., this chuck has a 6.42 inch diameter with a 1 inch jaw stroke (.500 per jaw). The chuck was designed with special jaws to grip the customer's sprocket. This chuck requires special jaw blanks...
Read More »
Designed to fit into GT Series broach tool holders, Hexagon Rotary Broach Tools create holes used for hexagon keys or Allen wrenches. Pressure relief holes allow air, coolant, cutting fluids, and other materials to escape from hole when broach is pushed into it. Broaches have sharp corners, but can be altered to have round corners to minimize pressure on machining operation. In addition, broaches...
Read More »
Founded just seventeen years ago, hs-Druck has evolved from a four-man enterprise into a 60-employee business with 3,000mÂ-² (around 31,000ft²) of production space. At the end of January joint managing directors Helmut Hörmanseder and Herbert Seidl fired up their first KBA Rapida 106. The ten-colour perfector press for five-backing-five boasts a high level of automation that...
Read More »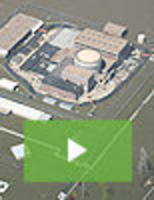 Aqua Dam is the ultimate solution for large-scale water control projects. It combines lightweight, large size, and portability all in one innovative product. To learn more about the uses, and applications of Aqua Dam, or to see it in action, check out our new video to get all the details.
Read More »