Essemtec, the Swiss manufacturer of production systems for electronics, will present several innovations in Hall 7, at booth 203 during the upcoming SMT/Hybrid/Packaging 2011 exhibition in Nuremberg, Germany. One of these advancements is the new Cobra Feeder, which allows four components to be picked up simultaneously. The new double-8-mm feeder from Essemtec is so precise that a Cobra placement...
Read More »
Available in 4 sizes from 148-300 mm dia as standard and with external vees, HepcoMotion® ALR rings are machined from aluminum alloy and anodized for durability. Rotary movement system suits medium precision and light load applications requiring corrosion resistance and non-magnetic environment. Available options include additional diameters and thicknesses, internal vees, gearcut rings,...
Read More »
Buckhorn Maximizer(TM), featuring integrated pallet and lid system, enhances efficiency of light-duty dry goods shipping and storage. Able to fold flat and fit within its own footprint, one assembled unit stores up to 8 collapsed boxes. One-person assembly and breakdown takes seconds; 2 drop-down doors promote access and ergonomics; and wall assembly eliminates need for tools. Made of...
Read More »
Launches Pyxis EcoStation(TM) system to help hospitals reduce cost and improve environmental compliance SAN DIEGO, April 6, 2011 -- CareFusion (NYSE: CFN), a leading global medical technology company, today announced it has acquired technology to automate the segregation of pharmaceutical waste, helping hospitals reduce cost, improve regulatory controls and facilitate environmental...
Read More »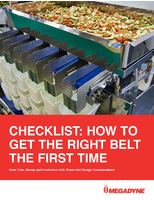 This guide is intended to help identify and address application criteria necessary to specify the right belt to deliver a highly efficient, reliable product.
Read More »
Buy a Box, or a Carton - The Choice is Yours ALPHARETTA, Ga. (April 5, 2011) - Neenah Paper (NYSE: NP) is pleased to offer its entire line of envelopes for purchase in quantities as low as 250 envelopes. Whether it's one or two small boxes, or one or two large cartons, customers can now purchase envelopes in all of Neenah's premium brands, including all CLASSIC® Brands, CRANE'S®...
Read More »
FlashCheck® real-time bacterial enzyme detection kits screen for the presence of bacteria on surfaces, equipment, and food as well as in water and beverages. Enzyme detection system consists of synthetic substrates, which in presence of enzymes specific to certain microorganisms causes chemical reaction. Results are shown in as little as 20 min. Kits will be offered in manual swab/strip...
Read More »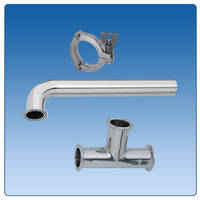 New products include sanitary stainless steel piping in a wide range of sizes and configurations, as well as pipe fittings, clamps, strainers, gauges, and more. (Schaumburg, IL) MISUMI USA, Inc., a subsidiary of MISUMI Corporation, part of MISUMI Group, Inc. (TOKYO: 9962), has announced a significant expansion in its Sanitary Pipes and Accessories product category. The expanded line of products...
Read More »
The IT multinational has provided the mission with its Man overboard location and follow-up systems to facilitate maritime search and rescue These systems are highly resistant and include features such as GPS positioning, customised information, light indicators or visualization of the operation with tools like Google maps and Google Earth, thus smoothing the rescue In its 24th edition of the...
Read More »
ANACORTES, WA, - Pro Safety Supplies, LLC is now fully stocked with a large selection of safety vests and high visibility clothing more than ever before. Pro Safety Supplies, LLC provides professional grade safety supplies to the public. This allows anyone to get anything that they need when it comes to the quality safety supplies. They are stocked with over 250 styles of safety vests in a wide...
Read More »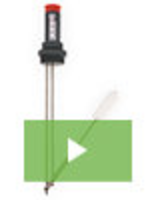 Krueger Sentry Gauge, a leader in chemical sight gauges, now offers the ultimate in aggressive liquid storage monitoring devices. From sulfuric and hydrochloric acid to bleach, and acetone, our products are designed with robust features that deliver a long and trouble-free service life. See our video to learn all about this new and innovative line of sight gauges.
Read More »