InfoComm Booth 1331 New Name Comes with New Features and New Models, Floor Boxes and Table Coaster Chargers also to be Introduced Woodland Park, NJ — FSR announces that it will re-launch its popular Plasma Wall Box Line (PWB) at this year's InfoComm 2015 show, with new features and models that will now fall within its Project Wall Box family of solutions. Additionally, the company is also...
Read More »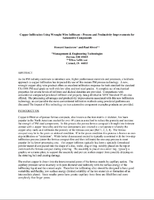 For the past 60 years, the use of copper infiltration on ferrous metals in powder metallurgy has been a popular method for manufacturing high performance components. Recently, a new twist on an old idea has been developed in the form of a new wrought copper alloy wire. With excellent infiltration response as well as the ability to improve numerous physical and mechanical properties of ferrous materials, this new technology presents many advantages for PM processing and production. In this comprehensive white paper, you will explore all you need to know about this material, including an in-depth look at its chemical and physical properties. Using automotive components as examples, the white paper examines the benefits of this new form of copper infiltration compared to more traditional infiltration methods. Download now, and discover if this new technology is the solution for your high performance component application.
Read More »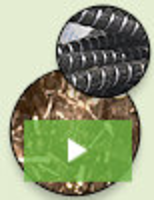 Fiber Reinforced Polymers (FRP), represents a truly groundbreaking advancement is structural reinforcement. Lightweight, strong, and green, they are changing the way the construction industry thinks about rebar. Unlike steel, FRPs don't rust and are far stronger than standard rebar. To learn why Fiber Reinforced Polymers are poised to change the way the world builds, see our video.
Read More »