Launches Pyxis EcoStation(TM) system to help hospitals reduce cost and improve environmental compliance SAN DIEGO, April 6, 2011 -- CareFusion (NYSE: CFN), a leading global medical technology company, today announced it has acquired technology to automate the segregation of pharmaceutical waste, helping hospitals reduce cost, improve regulatory controls and facilitate environmental...
Read More »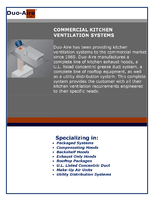 If you can't stand the heat, don't get out of the kitchen! Download this white paper and see how you can improve your commercial kitchen ventilation system.
Read More »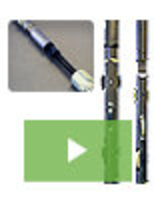 For over 35 years our Wheeled Rod Guide Couplings, have been at work in oil fields across the globe. Our products are engineered to extend the service life of sucker rods and tubing, delivering cutting-edge innovation that enhances oilfield operation, maximizes output, and enhancing overall operations. To learn about the advantages of using Wheeled Rod Guide Couplings in your wells, see our video.
Read More »