ParknPool's new Poolside Furniture Package includes everything needed to furnish a pool. Also included is the shipping cost to anywhere in the continental United States. ParknPool's Poolside Furniture Package Lexington, VAÂ- – ParknPool, along with their standard pool furniture product line, is now offering a Poolside Furniture Package in order to help clients furnish their pool with one...
Read More »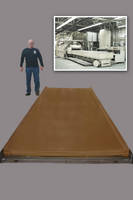 Short run forming of complex sheet metal shapes using rubber dies and pads is quick and highly effective.Â-  This technique was first accomplished using the Guerin process.  After the Second World War, the Wheelon process was developed as an improvement over the Guerin Process.  A Wheelon press is capable of manufacturing large, complex, short run parts with economic...
Read More »

Constructed of nickel-plated steel that protects against EMI/RFI, mini-ITX LGX MK100 1U Rackmount Case comes equipped with dual MagLev fans that provide airflow across high-power Core i solutions. LGX fan mufflers ensure quiet operation and optimize airflow, while minimizing strain on fans. Featuring modular design that allows for customization, case offers variety ofÂ- faceplate options,...
Read More »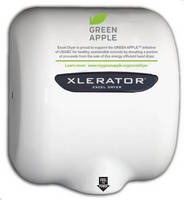 Massachusetts-based company, Excel Dryer, encourages global participation and project registration for Green Apple Day of Service scheduled for September 28, 2013 East Longmeadow, MA – Excel Dryer, Inc., manufacturer of the high-speed, energy-efficient XLERATOR® hand dryer, encourages participation in this year's Green Apple Day of Service, a program organized by the Center for Green...
Read More »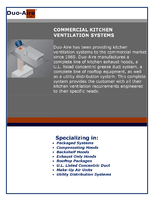 If you can't stand the heat, don't get out of the kitchen! Download this white paper and see how you can improve your commercial kitchen ventilation system.
Read More »
A small, rectangular plastic container for paint stands out – that's why the handy SuperCube packaging solution from RPC Superfos is a perfect match for a new type of special paint launched by one of France's biggest producers. Three types of groundbreaking paint from the family company V33, featuring a special technology called naturLAB® and sold exclusively in DIY stores Leroy Merlin,...
Read More »
As data accessory for Laser Microgage industrial measuring and alignment system, Capture™ lets operators grab measurement readings on-the-fly from as many asÂ- 4 remote laser receivers to analyze alignment and performance of their production machinery and industrial equipment. Windows®-based application records incoming readings, displays results, and increases control...
Read More »
DÃ-¼sseldorf/São Paulo - Gerresheimer will be presenting plastic products and systems for the pharmaceutical industry at FCE Pharma – the 18th International Exhibition of Technology for the Pharmaceutical Industry – which takes place at the Transamerica Expo Center, São Paulo/ Brazil from May 14-16, 2013 at stand no. is C25. The very dynamic Latin American pharma market is...
Read More »
mPowa's compatible device leads the market as 2013 sees the US make its most significant steps towards the conversion to Chip and PIN New steps are being taken this year to increase the rate of change toward Chip and PIN, also known as E.M.V. smart cards (Europay, MasterCard and Visa), bringing US banking in line with other parts of the world and making the experience of US customers abroad...
Read More »
• Award-winning credit union aims to enhance member service and improve efficiency • Wauna Federal selects CUnify for comprehensive account processing solution that includes solutions for teller operations, business intelligence, lending, accounting, reporting, document management and Internet banking • The open, member-centric architecture and efficient workflows of CUnify were cited as...
Read More »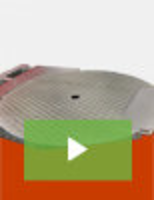 Are you in need of safer, more efficient transportation equipment? Do you feel like your delivery equipment could really use an upgrade? Check out this video, and learn about Halo Ramp Company's patented safety platforms, and how they help you bypass your trickiest delivery challenges.
Read More »