Approved for Class 1, Div 1 hazardous locations, Model EPL-50-120x12-EHR contains incandescent lamp within slip ring type explosion proof housing, and is paired with cord reel holding 50 ft of SOOW 16/3 AWG explosion proof cord. Reel features spark proof ratcheting mechanism that prevents inadvertent ignitions of flammable atmospheres while cord is being wound. Designed to meet JC-580A federal...
Read More »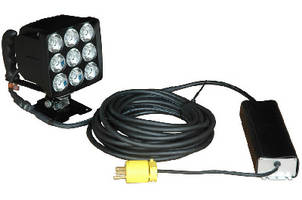 Operating on 120 Vac or 12 Vdc, 90 W Model PML-90LED-DP-120 utilizes nine 10 W Seoul Z-Power LED emitters to produce 8,100 lumen beam capable of reaching 2,400 ft in length and 140 ft in width. IP68-rated unit mounts to vehicles, buildings, or any flat surface using 4 in.-² mounting plate. Solid polycarbonate handle incorporated into adjustable mounting bracket enables adjustment of light that...
Read More »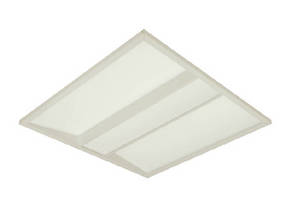 Suited for offices, hospitals, schools, and retail, SkyLid features diffusion panels that optimize light output and distribution without glare. Housing is constructed of cold rolled steel and aluminum, while optical chamber is finished with high-reflectance powder coat paint. Available in 2 x 2 and 1 x 4 sizes in both recessed and surface mount models, unit consumes 50 W and offers choice of warm...
Read More »
Philips Lumileds to showcase innovative new LED reference design at LIGHTFAIR International 2011, based on Marvell's 88EM8081 Digital Flyback LED Controller SANTA CLARA, Calif. -- Marvell (Nasdaq: MRVL), a worldwide leader in integrated silicon solutions, today announced the availability of a highly optimized, manufacturing-ready 40 watt equivalent LED lamp reference design kit. The reference...
Read More »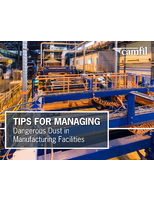 This eBook covers important considerations when creating a dust management plan for your facility. For more information, download now.
Read More »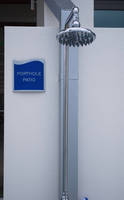 Vista System International, a world leader in Modular Curved Frame Technology (MCFT), recently supplied its flexible modular wall frames, featuring custom designed zinc sign panels, to Sarasota Signage Solutions for installation at Sarasota Yacht Club In Sarasota, Florida. The client required easy to install and update, yet elegant and uniquely designed wall frames for wayfinding purposes...
Read More »
9.2 MW on the Roofs of Opel / Operations to Begin in June COLOGNE, Germany - Wattner has contracted the construction of a mega-project: The Cologne-based group with a specialization in solar and infrastructure assets commissioned Germany's largest rooftop solar system on the roofs of the automobile manufacturer Opel, a subsidiary of General Motors, in Ruesselsheim. Five of the company's rooftops...
Read More »
AURORA, Ohio - TCP, the world's leading manufacturer of energy efficient lighting solutions, is introducing an extensive array of new compact fluorescent lamp (CFL) products and product enhancements at this week's Hardware Show in Las Vegas, NV. These exciting new products, introduced under the TCP Lightstyles(TM) brand name, further enhance TCP's comprehensive offering of energy efficient CFLs...
Read More »
Meet code Requirements with EverGlow Stair Markings! EverGlow offers code approved Photoluminescent EXIT PATH MARKINGS for use in high rise buildings - new construction and renovations. And, we give you a choice of high quality and durable materials that meet or exceed your performance expectations! 1. EverGlow Stair Markings - Division 5 - Metal Stairs & Nosings a) Stair Nosings - extruded...
Read More »
Company reaches new milestones in solid state lighting with omni-directional LED lamps PHILADELPHIA- OSRAM SYLVANIA today unveiled a 14-watt LED lamp designed to replace a 100-watt incandescent lamp. Producing 1,500 lumens, the dimmable SYLVANIA ULTRA A19 prototype provides up to 86 percent energy savings, when compared to traditional incandescent technology. We are delighted at this breakthrough...
Read More »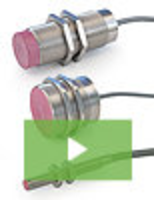 Locon Sensor Systems offer robust sensor solutions for even the most severe environmental conditions. Their line of high-temp inductive sensors and their cylindrical photoelectric series can operate in temperatures up to 250 degrees Celsius. See our video to learn more.
Read More »