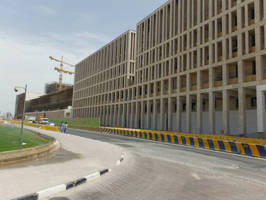 At the $5.5 billion 'Downtown Doha' development in Qatar, Grace Construction Products' Preprufe® waterproofing membrane has been specified to provide a proven, practical and reliable waterproofing solution. Said to be 'the world's first sustainable downtown regeneration project' and designed and built by Msheireb Properties, the country's leading sustainable developer, the 76 acre...
Read More »
Using SPS930 Universal Total Station, PCS900 v2.1 Paving Control System for Milling Machines can hot swap, or automatically and instantly transition, to next total station without stopping machine,Â- ensuring smooth milled surface at transition point. CAN-based paving control solution communicates directly with factory-installed 2D systems from most asphalt milling machine manufacturers and...
Read More »
CHESAPEAKE, Va. – Sandvik Construction has selected Volvo Penta power-generation engines for its new electric-powered track-mounted tertiary crushers. The new UH450E tertiary crusher was developed by Sandvik in response to market demand and special requests from customers for an electric-powered system. The new-generation UH450E is powered by a Volvo Penta TAD1651GE power-generation engine...
Read More »
Using Cracker, standard demolition can be carried out accurately without need for special equipment or preconditions. Product is virtually noiseless andÂ- free from vibration, as well as ecologically friendly. Supplied in powder form and sealed in vacuum packed heavy-duty plastic bags, Cracker is mixed with water and poured into spaced, pre-drilled vertical holes. After...
Read More »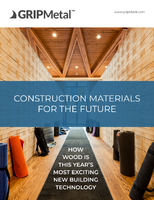 In this eBook, we highlight some key advantages of Cross-Laminated Timber (CLT) and show why every builder needs to consider adopting this remarkable construction advancement. We'll also introduce you to the latest innovation in CLT, GRIPBlock™, an exciting new technology that will change the way you look at CLT forever.
Read More »
As data accessory for Laser Microgage industrial measuring and alignment system, Capture™ lets operators grab measurement readings on-the-fly from as many asÂ- 4 remote laser receivers to analyze alignment and performance of their production machinery and industrial equipment. Windows®-based application records incoming readings, displays results, and increases control...
Read More »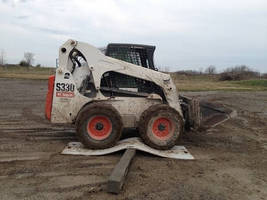 Vineland, Ontario, Canada – Plastruct Canada Inc. is now offering Earth Plates to its comprehensive product offering. Earth Plates are designed to protect lawns and gardens from ruts when using equipment on the grass. Plastruct's Earth Plates are designed to be reusable, lighter weight, portable and easy to store. They can be power washed for easy cleaning and are extremely durable and...
Read More »
NEW ALBANY, OhioÂ- – Commercial Vehicle Group, Inc. (Nasdaq: CVGI), a leading supplier of fully integrated system solutions for the global commercial vehicle market, is pleased to announce that it has been awarded a new contract to supply seating to the Caterpillar® Building Construction Products Division.  The seating, designed specifically to meet the needs of vehicle...
Read More »
Beginning in 1997, the owners of MDM Scaffolding Services, Inc. – Gene Morgan and Carol Schulz, have been developing an alternative to wood and LVL scaffold planks that would be safer, lighter and stronger and would elminiate the inherent problems of wood products. Wood planks require extensive inspection procedures, high storage costs and are susceptible to dry rot, splitting/cracking, bug...
Read More »
MUNICH - Trimble (NASDAQ:TRMB) today introduced a new construction grade control simulator for accelerated and cost-effective training of dozer operators. The simulator enables SITECH® Technology Dealers to deliver Trimble® GCS900 Grade Control System training in a safe and realistic environment that resembles a dozer cab - without using valuable machine time and fuel on the...
Read More »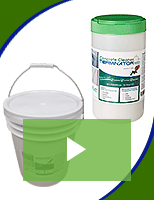 To enhance its appearance by removing oil stains, Terminator-HSD uses micro bacteria to remove the stain without harsh chemicals, acids, or detergents. Check out the video to learn more.
Read More »