Self-Propelled Mobile Manipulator improves safety, efficacy.
Press Release Summary: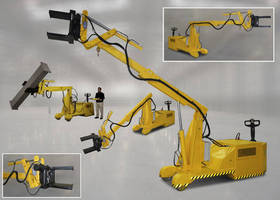 Installed on RBC-6000-SPBW Reversible Boom Crane, manipulator with gripper handles and articulates large items. Axes consist of lift, extend, pitch, roll and grip (2,000 lb max), and lift from ground level height to 12 ft. Addition of yaw axis and powered mast rotation increases total functions to 7. Ranges are 130° for pitch axis, 180° for roll axis, and 90° to left and 90° to right (parallel to boom) for yaw axis. Infinitely variable speed control and 90° steering capability are also standard.
---
Original Press Release:
New Five Function Articulating Manipulator with Gripper
Self-propelled Mobile Manipulator Improves Safety and Efficiency

Mentor, Ohio – Air Technical Industries (ATI) has developed a new unique five-axis tool to handle and articulate large items in any position needed.

The five axes are lift, extend, pitch, roll and grip up to 2000 lbs and lifting from ground level height to 12 feet.  The addition of available yaw axis as well as powered mast rotation offers up to seven total functions. The manipulator with the gripper is installed on ATI's Reversible Boom Crane (RBC-6000-SPBW).  This unit is self propelled with infinitely variable speed control and 90° steering capability to the left or right, giving the unit the ability to turn on a dime.

All the axes of the articularm are hydraulically actuated.  The pitch axis has a range of 130°, roll axis is 180° and yaw axis is 90° to the left and 90° to the right – parallel to the boom.  The power source is 24 volts DC battery powered.

A variety of grippers are available.  The one featured in the picture has parallel flat jaws with a minimum opening of 8" and maximum opening of 16".  The most popular gripper is the round jaws to grab and hold cylindrical items.

The controls are remote pendant push button so that the operator can be close to the item lifted in order to closely monitor the articulation for precise positioning.

This is an ideal tool for ergonomic handling and safety to avoid using the wrong equipment in a make shift application.  It takes the load off the operator's back and uses the finger tip push button control in handling heavy objects effectively.

For more information, contact:
Vida Novak
Air Technical Industries
7501 Clover Ave.
Mentor, OH 44060
Ph: 440-951-5191
Fax: 440-953-9237
[email protected]
www.airtechnical.com

Download a high-resolution image at: http://www.airtechnical.com/images/RBC-flatgrip-pr.jpg.