With ability to cure to touch in 60 sec, CHEMTHANE 8190 two-part polyurea elastomer is suited for repairing spalled joints, as well as filling random cracks and patching gouges, holes, and surface defects. It cures in applications ranging from freezing conditions to 130°F, and becomes ready trimming flush within 20 min. Non-brittle product allows floor to move, and prevents contaminants...
Read More »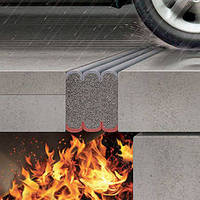 Comprised of hybrid silicone and impregnated precompressed foam sealant system, UL/ULC-Certified EMSHIELD DFR2 is suited for use in new/retrofit construction and infrastructure applications for containment of fire at structural expansion joints. It can withstand vehicular and other traffic; handle thermal-, traffic-, wind-, and seismic-induced movements; and provide waterproofing protection of...
Read More »
Featuring deep-penetrating formula for concrete as well as wood, metal, and steel surfaces, epoxy floor sealer and coating No. 7300 is designed for use in industrial applications such as warehouses, production floors, as well as shop and garage floors. Heavy-duty product cures, seals, hardens, and dust-proofs floors and may also be specially formulated as non-slip surface coating. In addition to...
Read More »
Combining immediate green strength of hot melt adhesive with long-term performance of reactive silicone sealant, HM-2520 offers resistance to movement during cure and at high temperatures under load. Neutral-cure, low VOC sealant enables parts to be moved immediately upon application. Offering tensile strength of 700 psi and service temperatures from -50 to 300°F, product meets FDA...
Read More »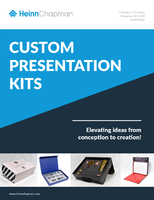 To find out more about how you can get a custom presentation kit tailored to your exact needs, download this whitepaper now.
Read More »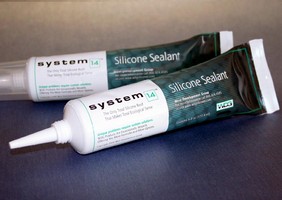 Because There's no Such Thing as a Flat Roof LaGrange, Ohio, (September 30, 2008) - West Development Group (WDG), a leader in sustainable roofing products and practices, offers WDG 7-702 R2R(TM) Silicone Sealant for use with the company's System 14(TM) roof system. Every commercial or industrial roof offers unique challenges. WDG's 7-702 Silicone Sealant is ideal for waterproofing flashing...
Read More »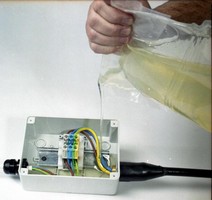 Supplied in safe and self-contained bag, GELSEAL is capable of transforming standard electrical enclosures up to and beyond IP68 rating while offering re-enterabilty and protection against water, moisture, dust, and dirt. Non-toxic gel system, designed for facilitated pouring as well as optimal adhesion and dielectric properties, is suited for encapsulating, sealing, potting, insulating, and...
Read More »
With high adhesion to plastics, Light Weld® GA-140 soft gasket material provides barrier to prevent absorption or penetration of air, dust, moisture, liquids, and gaseous substances. UV/Visible light-curable form-in-place and cure-in-place gasket is used for sealing fuel cells, appliance housings, and electronic assemblies. Low out-gassing unit can be dispensed into intricate and complex...
Read More »
Utilized for patching and repairing polyurethane roofs, Handi-Foam® SPF Roof Patch has R-value of 6.1/in., retaining insulation value and meeting commercial roofing codes for compression strength of polyurethane foam roofs. Offered in portable kit that includes Handi-Gun®, it maintains monolithic seal preventing air/moisture infiltration, and suits maintenance and repair work on HVAC...
Read More »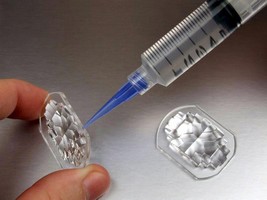 Available in Â-½ pint, pint, quart, gallon, and 5 gal kits, Master Bond EP30 features low viscosity, chemical resistance, dimensional stability, hardness, optical clarity, and electrical insulation properties. It is used in potting and encapsulating electronic components as well as in bonding optical elements, and has adhesion to metals, ceramics, glass, and plastics. EP30 has lap shear...
Read More »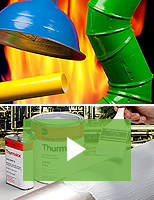 Dampney's high performance coating systems provide protection against extreme weather, chemicals, and corrosive environments for atmospheric, immersion, and underground applications. Check out the video to learn more.
Read More »