Drying Agent and Sealant fix leaks in refrigeration systems.
Press Release Summary: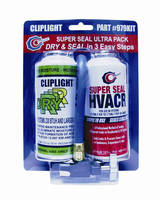 Ultra Pack features 3 oz, vacuum-packed can of Dry-R, which chemically changes H
2
O to low-viscosity, non-oily, and residue-free liquid. It chemically reacts with H
2
O to form liquids soluble with AB, mineral, POE, and PAG oils used in refrigeration systems. Super Seal HVACR, designed for 1.5-5 ton AC/R systems, seals undetectable or inaccessible leaks, 300 microns or smaller, in condensers, evaporators, and line sets from inside out. Package also includes charging hose.
---
Original Press Release:

Cliplight Ultra Packs a One-Two Punch; Knocks Out A/C & Refrigeration Moisture and Leaks



Ultra Pack combines Cliplight's Dry R(TM) drying agent with classic Super Seal HVACR(TM) leak sealant for refrigeration system leak fixing.

Cliplight Mfg., Toronto, a leading HVAC/R aftermarket tool manufacturer, has introduced the Ultra Pack, a one-two punch combination of complementary products that knocks out moisture/acid with a can of Dry R(TM) and seals refrigerant leaks with a can of the manufacturer's classic Super Seal HVACR(TM) air-conditioning/refrigeration (AC/R) system leak sealant.

Since Cliplight's patented leak sealing process requires a moisture-free system for ultimate efficacy, the Ultra Pack includes a one-ounce can of Dry-R that eliminates the required time-consuming procedure of drying out a system with filter/drier change-outs and triple evacuations to boil off moisture.

Ultra shouldn't be confused with the recently introduced Super Seal Total(TM), which combines smaller doses of Super Seal HVACR, Dry-R, plus a dye combined into one application can that's designed as a proactive preventative maintenance application before systems leak or after a conventional repair. The Ultra Pack is reactive and designed for systems that are known to be leaking," according to Paul Appler, Cliplight's director of research and the inventor of both Super Seal and Dry-R.

Each Ultra Pack includes:

o A three-ounce, vacuum-packed can of Dry-R, which chemically changes H2O to a low viscosity, non-oily, highly soluble and residue-free liquid that flows freely throughout the system without chemically attaching to commonly-found AC/R system contaminants. Dry-R chemically reacts with system H2O resulting in new molecularly reassembled liquids that are completely soluble with AB, mineral, POE and PAG oils used in refrigeration systems. Instead of a particulate, gel or soft polymer formation, the new liquids stabilize the system by lowering the overall H2O ppm and act as an oil conditioner. After the chemical reaction, H2O can no longer attach chemically to AC/R system contaminants and form a damaging sludge as it commonly does in systems not treated with Dry-R. Dry-R changes a wet liquid line indicator from yellow to green within 24 hours.

o A three-ounce, vacuum-packed can of Super Seal HVACR designed for AC/R systems 1.5 to 5 tons. Super Seal is engineered to seal undetectable or inaccessible micro leaks in condensers, evaporators and line sets from the inside out. Injection is a one-step process of drawing the system refrigerant into the Super Seal vacuum-packed can for mixing and dispensing the sealant throughout a clean, moisture-free system thus eliminating compatibility considerations. Super Seal is compatible with all refrigerants and oils. After conventional leak detection attempts prove unsuccessful, Super Seal's patented low viscosity, particle-free formula is designed to flow freely throughout the system without affecting valve cores, driers, compressors or other components. Once injected, Super Seal and the refrigerant leak out a hole of 300 microns or smaller, a chemical reaction crystallizes it around the hole during exposure to atmospheric moisture, and then forms a seal.

o One charging hose.

o Step-by-step application instructions.

For more information on Cliplight, an ISO 9001:2000 certified manufacturer and its HVAC and refrigeration products, please email [email protected], call 1-866-548-3644 or visit www.cliplight.com.