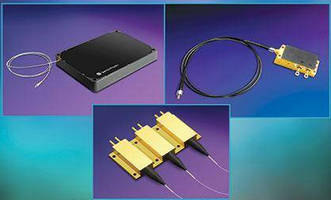 Tucson, Arizona - January 21, 2009 - Newport Corporation's Spectra-Physics Lasers Division introduces three new ProLite-® Xt fiber-coupled diode laser products, all of which are based on the company's proprietary advancements in bar design, mini-bar design and beam shaping technology. The ProLite Xt High Brightness Corvus(TM) Fiber-Coupled Arrays, the ProLite Xt High Brightness Orion(TM)...
Read More »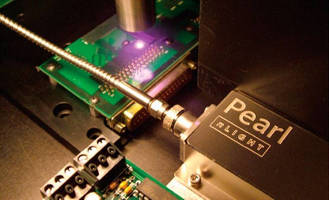 Featuring nXLT(TM) single emitter diodes, Pearl(TM) Fiber-Coupled Diode Lasers are available in 915, 940, and 980 nm wavelengths with up to 100 W power from 200-800 -µm PowerCore(TM) fiber, which provides consistent beam quality and power transmission independent of fiber layout and movement. Units are specifically designed for industrial applications such as plastic welding and soldering.
Read More »
Delivering 28 W of output at 355 nm, AVIA(TM) 355-28 is targeted at micromachining applications in semiconductor fabrication and packaging as well as solar cell production. It features PosiLock(TM) technology for achieving repeatable spot positioning at work surface, and PulseEQ(TM), which provides constant pulse energy across wide range of rapidly varying pulse repetition rates. Unit also...
Read More »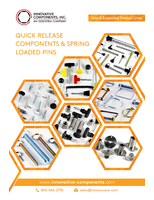 To learn more about the different types of pins available or which ones to select for your specific application, download our product guide.
Read More »
Delivering 75 W of peak power from 200 x 10 -µm aperture, Series 2675 Epi-Stack is 905 nm short pulsed diode laser that is designed for low duty cycle operation, typically 200 ns, 2 kHz, at operating temperatures of -40 to +85-
Read More »
Excelsior-®-594 Laser is multilongitudinal mode laser suited for Flow Cytometry and microscope and DNA sequencing applications that rely on exciting fluorescent dyes, such as Texas Red. Stand-alone, low-power, continuous wave laser features integrated active light loop for output power stability over wide temperature range.
Read More »
Laser Photonics Inc. is pleased to announce its full line of standard laser system products. Due to a large increase in worldwide demand and rapid growth in company size, Laser Photonics is now mass producing its full range of laser equipment. Plans have been announced to triple its production capacity in the next year in order to shorten delivery time while lowering the customers over all cost....
Read More »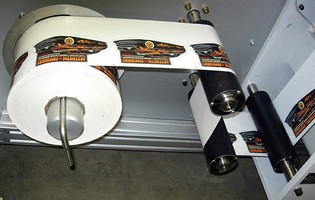 Able to work in-line or off-line with digital printers, Spartanics Finecut Narrow Web Laser Cutting System can be set up via import of digital file and create labels with complex shapes in orders as small as 200 or 400 pieces. It is designed to work inline with EFI's Jetrion 4000 Series UV Inkjet System, enabling different size kiss-cut labels to be created on fly. Jobs proceed from artwork to...
Read More »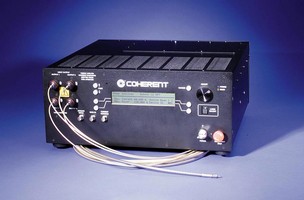 Fully integrated HB-Diode System delivers 75 W of power at either 808 nm from 200 -µm core 0.22 NA (numerical aperture) fiber, or 976 nm from 400 -µm core 0.22 NA fiber. It operates from 110/220 Vac, and enables user control of diode output through either front panel keypad or electronic interface, including analog, TTL, RS-232, and RS-485. Suited for range of applications, unit also features...
Read More »
Including power monitoring feature to keep average optical power constant during temperature changes, model SY88212L is single-supply, 3.3 V laser driver. Device is suited for datacom and telecom applications, such as LAN and MAN, with any data rates up to 2.5 Gbps. Designed with high compliance voltage, IC can be dc-coupled to laser to reduce external component count and power consumption....
Read More »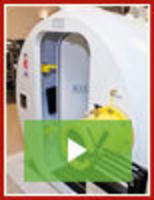 Tekna is a leader in Monoplace and Multiplace Hyperbaric Chambers for Hyperbaric Oxygen Therapy (HBOT), offering products that set the standard for quality and innovation. Our new 7200 series of multiplace chambers is a state-of-the-art system that integrates advanced engineering with a plethora of features and options making it the industry's premier HBOT system. To learn more, see our video.
Read More »