Burckhardt Compression delivered two cylinders for an existing Sumy primary compressor for a LDPE plant in Tomsk, Siberia. In July 2006, Burckhardt Compression received an order from the LDPE plant Neftechim in Tomsk, Siberia. It included the replacement of two first stage cylinders of a 4 crank Sumy primary compressor with Burckhardt Compression cylinders as well as their on-site installation....
Read More »
Brighton, UK, 12th September 2007 Paxton Access', the UK market leader in the design and manufacture of electronic access control systems has announced the launch of a new and unique range of internal PROXIMITY Architectural readers. Our unique range of new access control readers is in direct response to requests from architects and designers for manufacturers to be more imaginative in the design...
Read More »
SANTA CLARA, Calif., Jan. 28, 2008 -- Agilent Technologies Inc. (NYSE: A) today announced that its N6705A DC Power Analyzer has been awarded four prestigious industry awards: o Test & Measurement World's 2008 Best in Test o Electronic Products' 2007 Product of the Year o Design News' 2007 Golden Mousetrap Award o International Engineering Consortium's 2008 Design Vision Award Finalist The awards...
Read More »
New Offering Reflects Industry Trend Toward Electrification FLORENCE, ITALY - January 30, 2008 - Designed to help compression plant operators meet growing operational and environmental challenges, integrated motor compressor (ICL) technology developed by GE Oil & Gas has received certification as a GE ecomagination product. Ecomagination is GE's commitment to address the need for cleaner, more...
Read More »
This whitepaper discusses key considerations for choosing a cleanroom equipment supplier: what to look for, types of cleanrooms & their standards.
Read More »
11/19/2007 - 5:00am Blue Coat ProxySG Appliances Protect Internal Networks from Spyware and Control Traffic to and from Internet SUNNYVALE, Calif., November 19, 2007 - Blue Coat Systems, Inc. (NASDAQ: BCSI), a leader in WAN Application Delivery and Secure Web Gateway, today announced that Banco Nacion of Argentina, the country's foremost bank with 643 sales points and 563,000 customers, has...
Read More »
Fastrax introduces a GPS receiver with a miniature integrated GPS chip antenna for Personal Navigation Devices and a new, ultra ompact OEM GPS receiver with reduced power consumption Helsinki, Finland - January 25, 2008 - Fastrax Ltd., a provider of programmable OEM GPS receivers as well as open and portable GPS Software Development Kit environments, today announced two new products in its...
Read More »
Configurable Component Tech Seminar to be held during show Schaumburg, Illinois-MISUMI USA, Inc. will display its newest products for factory automation at the upcoming South Pack show in Charlotte, NC on March 19-20. MISUMI is a world leader in supplying fixed and configurable components for all types of motion control, assembly and related factory automation devices. Highlighted at this year's...
Read More »
Delivering residual jitter below 100 femtosec and channel bandwidths to 35 GHz, Model 86108A is designed for verification of high-speed electrical communications systems. Integrated instrumentation-grade hardware clock recovery allows 86108A to trigger directly from single-ended or differential data signal, eliminating need for separate trigger input, while internal phase detector allows accurate...
Read More »
Designed for continuous measurement of Isotopic CO2, CRDS ultra-trace gas analyzers are based on cavity ring down spectroscopy (CRDS) technology and deliver ppb to ppt gas concentration sensitivity without interference. Drift- and maintenance-free products require no consumables and measure single spectral features in compact flow cell with effective path length of up to 12 km. Designed to run...
Read More »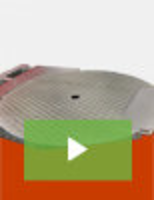 Are you in need of safer, more efficient transportation equipment? Do you feel like your delivery equipment could really use an upgrade? Check out this video, and learn about Halo Ramp Company's patented safety platforms, and how they help you bypass your trickiest delivery challenges.
Read More »