Integrated into Business Online™ banking service as usability-optimized solution, Mobiliti Business™ delivers mobile banking and payment services to SMBs via downloadable apps for iPhone® or Android™ devices. Activities requiring approvals can be reviewed and authorized, and push notifications are sent when approvalsÂ- are needed. Other features that help businesses manage their...
Read More »
Fully interoperable with AVEVA PDMS and Intergraph Smart 3D plant design software, Tekla® Structures 21 minimizesÂ- time between concept and construction by enabling advanced project team collaboration and productivity. Reference model handling is optimized, facilitating collaboration over changes and providing control over change management with IFC files. Drawing control simplifies...
Read More »
With maximum privacy and security, myHEALTHware™ provides tools needed to view patient data, connect with healthcare professionals, and coordinate with internal/external team members. System serves as Health Information Service Provider, allowing users to connect and share files with other providers via open-standard, HIPAA-compliant Direct Protocol, regardless of which EHR they use. In...
Read More »
Giving users full control and visualization of logical and physical data center infrastructure, Environet® Asset allows efficient and cost effective data center operation over all stages of device lifecycles. Simplified asset management empowers collection, organization, and visualization of information needed to manage assets, network connections, power connections, and space. Use is...
Read More »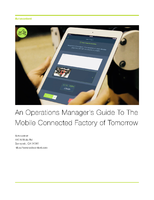 This white paper provides an overview of mobile technology for managing your manufacturing facility, while also discussing the advantages of being an early adopter.
Read More »
HYDERABAD, India,Â- – SafetyOne Provides Rapid Deployment of an Environmental, Health and Safety Solution for Midsize Companies in India YASH Technologies®, a leading technology services and outsourcing partner for global companies, announced the launch of SafetyOne, a new business management solution designed specifically to meet the needs of midsize companies in India to improve...
Read More »
HUTCHINSON, Kan. –Â- In southwest Ohio sits a village named Blanchester, a thriving bedroom community to Cincinnati and other villages where residents say the banana split was invented over 100 years ago, and is honored each June with its own festival in nearby Wilmington. Just like the banana split, The First National Bank of Blanchester has served these communities for over 108 years,...
Read More »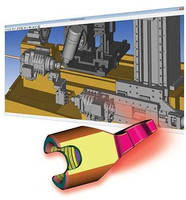 Delcam to demonstrate PartMaker Version 2015 at the east coast's largest machine tool show Fort Washington, PAÂ- – PartMaker Inc., a division of Delcam, will demonstrate the latest version of PartMaker Software for programming CNC Mills, Lathes, WireEDMs, Turn-Mill Centers and Swiss-type lathes at Eastec 2015 in West Springfield, Massachusetts, May 12 – 14, 2015. Highlighting the new...
Read More »
Quick ROI Prompts Manufacturers to Deploy Costimator® Software throughout their Enterprise West Springfield – MTI Systems, Inc., developer of Costimator cost estimating software, announced today that the company has recorded a record number of corporate license upgrade sales in 2014. The Costimator cost estimating and quoting software has been implemented in over 1,600 manufacturing...
Read More »
Rohde Schwarz will again demonstrate its expertise in electromagnetic compatibility (EMC) measurements at the EMV 2015 international trade fair (booth 328, hall C2) in Stuttgart. Highlights will include compliance tests in the 5 GHz band, tried and tested EMC software with enhanced functionality and broadband amplifiers with expanded frequency ranges. Munich,Â- – Rohde Schwarz, the global...
Read More »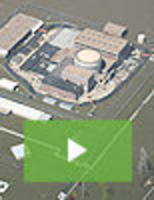 Aqua Dam is the ultimate solution for large-scale water control projects. It combines lightweight, large size, and portability all in one innovative product. To learn more about the uses, and applications of Aqua Dam, or to see it in action, check out our new video to get all the details.
Read More »