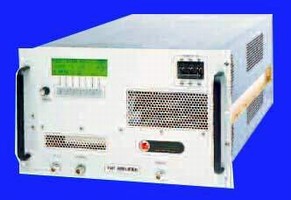 Reduced-height 500 W TWT amplifiers are available in 10.5 in. high chassis covering 1-8 GHz, and 17.5 in. high chassis covering 8-18 GHz bandwidth. Model PT251-2KW provides minimum of 2.0 kW of pulse power from 1.0-2.5 GHz at duty cycles up to 10%. Single drawer 19 x 25 x 10.5 in. design is suited for high-power test specifications and requirements.
Read More »
Featuring 4.9-5.9 GHz operating range, 2 W Model SZP-5026Z is optimized for use as either final or driver stage in WiMAX equipment. Single-stage, Class AB, InGaP Heterojunction Bipolar Transistor amplifier delivers error vector magnitude performance of 2.5% at 25.5 dBm output power. Operating from 3-5 V supply, device includes internally pre-matched input and output, integrated input power...
Read More »
Fully compliant with HSDPA and HSUPA requirements, AWT6281 PA enables manufacturers to design and develop 3G handsets and data cards required for successful conversion to UMTS900 worldwide. Self-contained product comes in 4 x 4 x 1.1 mm SMT package, offers quiescent currents of 7 mA without dc/dc converter, and eliminates need for external voltage regulator. It extends operating time of 3G...
Read More »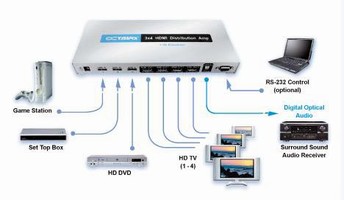 Designed for home theaters and public HD display kiosks, 3x4 HDMI V1.3 Switch and Splitter Distribution Amplifier distributes full 1080p video streams to 4 HD displays simultaneously via HDMI. RS-232 serial port provides integration with 3rd party control systems, while 3x1 HDMI switching allows up to 3 separate HD sources to be selected. Unit processes HDMI data and outputs audio via Toslink...
Read More »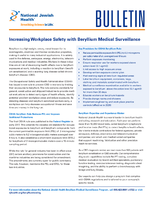 To learn more about how you can develop a workplace safety plan that follows OSHA regulations and fits your company's specific needs, download now.
Read More »
DVI Video/Audio Extender Kit enables digital signage professionals to distribute video and audio signals up to 100 ft away from primary source to designated display. Solution is comprised of 2 DVI units, local transmitter, and remote receiver connected with one CAT 5e/6 Ethernet cable. Using DVI cords, transmitting component links to native source, and receiving extender hooks up to DVI display....
Read More »
PT186-2KWR military ruggedized pulse amplifier is designed for outdoor mobile and fixed applications. Compact unit is 6.5-18.0 GHz, 1.5 kW peak power amplifier for up to 6% duty cycles. CW/Pulse version, as well as other frequency ranges, are available to meet application requirements.
Read More »
Supporting multiple output configurations, 20 W Class-D Model TAS5601 includes PWM interface to video or audio processor. Unit is more than 90% efficient and requires only 3.3 V and 10-26 V rail. Operation up to +26 V allows LCD-TV manufacturers to power device off existing +24 backlight rail, eliminating need for dedicated audio power rail. In addition, TAS5601 includes over-voltage,...
Read More »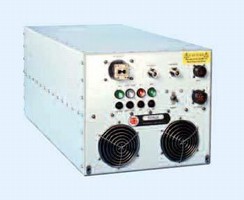 PT186-2KWR military ruggedized pulse amplifier, with RF pulse fidelity, is compact 6.5-18.0 GHz 1.5 kW peak power amplifier providing up to 6% duty cycles. CW/Pulse version as well as other frequency ranges are available to meet requirements.
Read More »
Compatible with Qualcomm CDMA2000(TM) and EVDO(TM) chipsets, Model AWT6309 is intended for wireless handsets and data devices that operate in 1.7 GHz bands. It utilizes InGaP-Plus(TM) technology, integrating switches and amplifier components onto same die. Unit provides 41% efficiency at +28 dBm output and 22% at +17 dBm output with quiescent current of 14 mA and leakage current of less than 1...
Read More »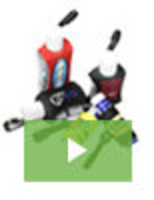 Neagle Choice has long been known as a quality source for commercial sewing, printing, die cutting, and the manufacturing of a wide range of custom products. Enhancing our service capabilities has been the key to our success, and has driven our growth into many new and exciting markets. Continuing on this trajectory, we now offer precision laser cutting and etching, adding to our long line of manufacturing services. See our video to learn all about it.
Read More »