Effective over 36 and 48 nautical mile ranges, respectively, GMR(TM) 18 HD and GMR 24 HD marine radomes identify precise location of targets. Both models utilize DSP, offer 4 kW of transmit power, and have 25° vertical beamwidth. While GMR 18 HD has 5° horizontal beamwidth, GMR 24 HD has 3.6° horizontal beamwidth and selectable (24 to 30 rpm) rotation speed for navigating tight...
Read More »
Suited for control room and digital signage applications, Models m40L and m46L feature built-in power management/automation, intelligent light sensor that automatically adjusts backlight, 1,200:1 contrast ratio, built-in tiling and mullion compensation, configurable I/O, and landscape/portrait orientation for multiple uses. Model m40L offers WXGA native resolution of 1,366 x 768, while Model m46L...
Read More »
Suited for control room environments, Clarity RP and RX rear-projection displays feature Texas Instruments' single-chip DLP® and Planar's Set It and Forget It(TM) (SiFi) technology. Available in open or integrated system options, RX display provides standard XGA native resolution of 1,024 x 768, while RP series is suited for data-rich applications. Both feature motorized alignment,...
Read More »
Featuring single piece of 10-bit high-resolution grayscale glass, Dome Z16 is 16 mexapixel, 30 in. diagnostic imaging display that offers seamless side-by-side digital study comparisons. It features 750 cd/mÂ-² maximum brightness, 500 cd/m² calibrated brightness, 750:1 contrast ratio, and ±85° horizontal and vertical viewing angle. LCD also offers dual link DVI-D, native...
Read More »
Designed for active matrix-based organic LED displays used in mobile phones and other handheld devices, Display Driver IC supports qVGA resolutions and is capable of producing over 16 million colors. Unit self-adjusts screen brightness, illuminating only those areas that need light, minimizing power consumption, and extending battery life. Read-only memory is built in separately, enabling red,...
Read More »
Suited for mid- and high-volume clinical diagnostic microbiology laboratories, MicroScan® WalkAway® plus Systems offer simultaneous automation of overnight, rapid, and specialty panels that test for both gram negative and gram positive bacteria. Both systems combine minimum inhibitory concentration testing with automated features, including automated maintenance and dial-up system...
Read More »
Available in both standard sheet formats and customized sheet layouts, Electronic Display Inlay enables plastic card manufacturers to produce electronic display cards using industry standard hot lamination manufacturing processes and installed equipment. It features Primero 6|7(TM) flexible numeric display module along with battery and circuitry, embedded in plastic structure. Card manufacturers...
Read More »
With built-in T-CON timing chip, CCFL backlight and TTL interface, Model PD057VU4 is 5.7 in. digital active matrix TFT panel that offers 320 x 240 (QVGA) pixel resolution and 262,144 colors. It features operating temperature of -20 to +70°C and -30 to +80°C storage temperature. Measuring 144.0 x 104.6 x 13.0 mm, unit can be used for variety of medical applications, industrial...
Read More »
SensorView(TM) 350 compact, industrial, panel-mount display is designed to work with Checker® 200 Series inspection sensors. IP65-rated unit allows operators to view production images of parts that sensor is inspecting without use of PC. Interface displays images of passed or failed parts, while status indicators and results statistics help users monitor production process.
Read More »
Seoul, Korea -- October 22, 2007: Samsung Electronics Co., Ltd., the world's largest provider of thin-film-transistor, liquid crystal displays (TFT-LCD), will unveil a diverse array of leading-edge LCD panels for monitors, TVs and digital information displays at FPD International 2007, in Yokohama, Japan, October 24-26. At what is one of the world's largest trade shows dedicated to flat panel...
Read More »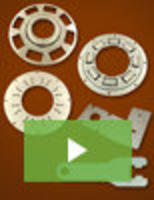 PDS is an established leader in progressive die stamping, with a reputation for providing precision and value that dates back more than half a century. Through extensive capabilities and a staff of seasoned professionals, we set the standard for quality, delivering flexible services that can meet the needs of the most challenging requirements. See our video to learn more.
Read More »