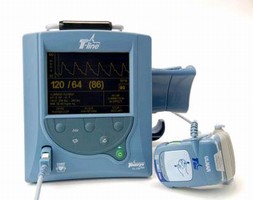 - Small in dimension - Big in performance - Manheim, PA - From their commitment to research and development, Fenner Precision engineers have developed a process to produce a 60mm circumference belt with a 1mm pitch. The FHT-1 is by far the smallest belt ever produced by Fenner Precision, a leader in belts, tires and pulleys. The high-torque, curvilinear belt is made of extremely durable...
Read More »
Company also offers flexible alternatives to current belting requirements Fenner Precision Manheim, PA (August, 2007) - Fenner Precision, a recognized global leader for belts, tires and pulleys for use in paper propulsion, motion control and power transmission applications, has announced that their EPDM StretchBands(TM) have received a UL 94HB approval from the Underwriters Laboratories....
Read More »
Custom belt and tire products produced in USA and UK for global customers Fenner Precision Manheim, PA (August 2007) - As the technical complexities of the photocopier market grow, and demands for greater production speed and higher quality levels ever increase, Fenner Precision continues to meet the challenge by manufacturing a variety of belt and tire products that help their global customers...
Read More »
MINNEAPOLIS, Sept. 24 / -- Delphax Technologies Inc., a global provider of high-speed digital printing systems, announced today that it will demonstrate an in-line perfect bound book production system featuring the Delphax CR2200 at MBO Open House Innovation Days Nov. 7-9 in Westampton, N.J. The Delphax CR2200 is the fastest monochrome toner-based digital print system in the world, operating at...
Read More »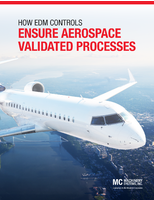 Download this white paper to learn more about how wire EDM systems are used to validate aerospace manufacturing processes.
Read More »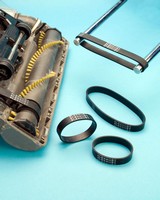 A line of standard and custom flat drive belts made of neoprene or isoprene for vacuum cleaners and sweepers, conveyors, and various industrial and commercial products are being introduced by Flexaust of Warsaw, Indiana. Flexaust Flat Drive Belts are custom engineered and manufactured from neoprene or isoprene in widths from 3.75 to 34" and diameters up to 5.5" I.D. Suitable for applications such...
Read More »
Gatorback Sport Continuously Variable Transmission (CVT) belt features carbon fiber reinforcement in body construction for optimal stiffness across width of belt. Able to regulate itself under extreme events, belt design allows for desired edge slippage without losing top width. Suited for all-terrain vehicles (ATVs), belt also features Flexten aramid cords traveling circumference of belt to...
Read More »
Available in straight-tooth, offset-tooth, or helical styles, Polyurethane Timing Belts suit linear motion, product conveyance, and power transmission applications. Steel-cord reinforced belts come in 3 configurations: open-end rolls in 325 ft lengths; welded or jointed belts made from roll material cut to length and spliced; and endless types made from long continuous cord with no splice or...
Read More »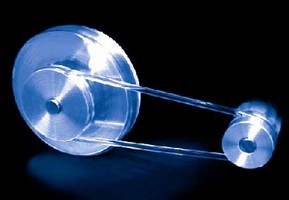 Manufactured to metric or inch requirements, PYRATHANE 88A Drive Belts are made of polyester-based polyurethane with Shore hardness of 88A. Round belts can be custom made with cross sectional diameters from .062-.562 in., while flat belts range from .030-.187 in. in thickness and in widths up to 1.500 in., both with no max length restriction. PYRATHANE belts provide quiet operation in small parts...
Read More »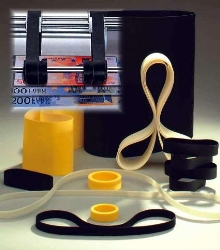 Available with or without carcass reinforcement, Hytrel® Flat Belts are flexible at temperatures as low as -40°F. Themoelastic polyester elastomer is abrasion- and tear- resistant with long-term fatigue resistance. It also offers resistance to microbes, weather, mineral oils, grease, water, alcohols, and glycols. Applications include drives, conveyors, vacuums, food processing, credit...
Read More »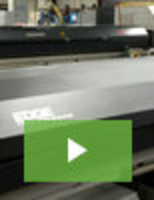 For precision and value that sets the standard for quality and craftsmanship, EGS Production Machining is the source for precision and value. Our extensive capabilities and dedication to customer service allow us to deliver the optimal manufacturing solution. See our video to learn more.
Read More »