Stainless Steel Vacuum Belts for Solar Cell Production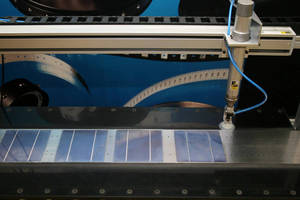 High Performance Vacuum Belts Improve Efficiency and Throughput

Agawam, MA - Belt Technologies offers a line of high performance stainless steel vacuum belts for use in the production of solar cells. Belt Technologies vacuum belts offer significant advantages over other conveying systems including high strength-to-weight ratio, durability, and precise positioning control. They run without lubrication of any kind, minimize variations in surface speed, and don't stretch - all resulting in increased efficiency and throughput.

Designed to withstand a range of demanding production environments, Belt Technologies metal vacuum belts provide a hard, smooth, flat surface that's ideal for processing, printing, and inspection. These continuous-length stainless steel belts minimize debris buildup and eliminate the frequent shutdowns associated with cleaning other types of systems. As a result of their ability to contain customizable perforation patterns, these belts provide a level of precision and accuracy not attainable with traditional systems.

For more information on Belt Technologies products, call 413-786-9922 or access the company's website at www.metalbelts.com.

Belt Technologies designs and manufactures belt conveyors for wide ranging applications in the automation, electronics, packaging, food processing, medical device, tobacco, and aerospace markets.