Power Transmission and Timing Belts
Miniature Drive Belt System features arched tooth profile.
Press Release Summary: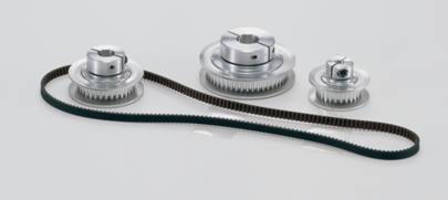 EXCEL-A-BELT miniature drive belt system incorporates arched tooth profile that provides rolling action between belt and drive sprocket, allowing for high-accuracy positioning and precise rotation transmission. Sprockets have bore sizes ranging from 3-25 mm and PD of 17-54 mm. Belt widths of 3, 4, 6, and 9 mm are available and system is suited for use with motors of 10-1,000 W.
---
Original Press Release:
EXCEL-A-BELT Miniature Drive Belt System
Something new in the miniature drive belt system from NBK. After years of testing, we have perfected a unique arched tooth profile with zero backlash which enables our system to run much longer, cleaner, and quieter that those common drive belts in use today. The key to the new tooth profile, which allows for high accuracy positioning and precise rotation transmission, is that it provides a rolling action between the belt and the specially formed drive sprocket. As the belt tooth enters and leaves the sprocket it does so in a rocking motion which reduces wear and contaminates from belt or sprocket tooth abrasion. The drive sprockets have bore sizes ranging from 3-25mm and PD's of 17-54mm and come standard for shaft clamping. Four belt widths of 3, 4, 6, and 9mm are available. Excel-A-Belt miniature drive system is perfectly suited for use with motors of 10-1,000W. All components are available from stock with a 3-4 day delivery. For technical or commercial information, please contact Dennis Barnes via email [email protected] or contact The Precision Alliance via telephone at (803) 396-5544. For questions regarding this product release, contact JoAnna Hewett : [email protected]