Viastore Systems, a Leading Automated Material Handling Provider, Introduces the ARC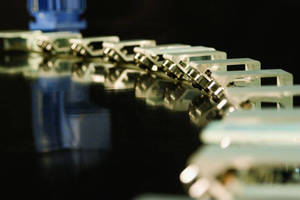 GRAND RAPIDS, MICHIGAN --- FEBRUARY 2009

viastore systems, a leading automated material handling provider, introduces the ARC: a reliable power turn that is priced comparably to the competition and significantly reduces maintenance time.

o viastore systems patented belt guidance system allows for belt changes in less than 15 minutes!

o The patented guide system minimizes wear by allowing for variations in belt contact greatly increasing the life of the belt.

o viastore system's ARC belt curve comes in many standard sizes and custom sizes are available upon request.

o Sample of North American Installations: UPS and CafePress

viastore systems, Inc. - viastore systems isa leading manufacturer of Automated Storage Retrieval Systems (AS/RS), Conveyor Systems and WMS Software Solutions. Located in a modern 90,000 sq. ft. facility in Grand Rapids, MI viastore systems, Inc. works closely with each client to develop full material handling system solutions utilizing one or many of our expanded capabilities: AS/RS manufacture and integration, conveyor system design and integration, control system design and upgrade, custom software design and integration, robotic systems, retrofits and refurbishments, and custom design and manufacture of special equipment.

viastore systems' capabilities have grown as their clients needs have grown. North American clients include Cargill Meat Solutions, Continental Teves NA, Gordon Food Service, L'Oreal USA, Frito Lay Corporation, Robert Bosch Corporation, Wilsonart International, Ford Motor Corporation, Schwan Food Company, Nestle USA, Boscov's Department Store, Trane Corporation, Smithfield Beef, Steelcase and Wolverine World Wide.

viastore systems has developed and manufactured all types of Storage/Retrieval (S/R) machines as one of it's primary product lines since 1970. Today, viastore systems is an international corporation one of it's primary product lines since 1970. Today, viastore systems is an international corporation with manufacturing facilities in Germany and the United States and subsidiaries in France, the Netherlands, the United Kingdom, Spain, and the Czech Republic.

For more information regarding viastore systems, its products or services, call (616) 977-3950 or visit our website at www.viastore.com.