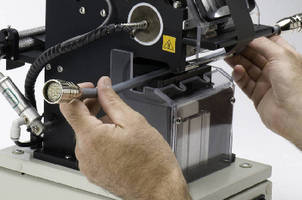 Accommodating wire sizes from 0.25-0.75 in. in diameter, front-loading offline Model KIP-FL prints one line horizontally or vertically along insulated wire or cable including Teflon®, PVC, Tefzel, Kapton, and other materials. Utilizing up to 28 full-size 40-character typewheels, semi-automatic bench-top unit features foot pedal activation and intermittent motion. It is suitable for automotive,...
Read More »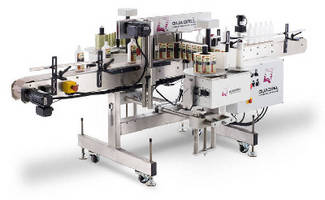 Moduline is a compact, rugged, yet economically-priced pressure sensitive labeling system for front/back, side panel or full wrap applications. The system was designed to compete with low cost Asian imported systems and is ideal for packaging lines with a production rate of 150 ppm or less. The Moduline sets a new price threshold for an American-made, all stainless steel labeling system built...
Read More »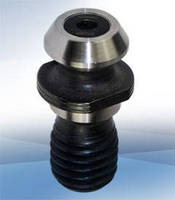 Compatible with Mazak data control and tracking systems, RFID Tool ID Tags mount in end of tool holder retention knob, which is then screwed into top of tool holder to provide handling point for automatic tool changing and repeatable place for reading Tool ID tag in Mazak machining centers. Designed to withstand elevated pressures and centrifugal forces, tags have center hole that is compatible...
Read More »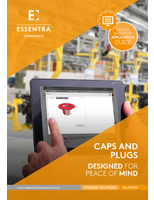 Download this engineering guide to learn more about the different caps and plugs offered, and to find the correct solution for your specific application.
Read More »
Designed for loop attachment to key rings or other items with similar mounting requirements, Model 136007 operates over frequency range of 902-928 MHz for North America and 865-868 MHz for Europe and India. Tag offers 64 Kb memory total with 60 Kb rewritable non-volatile user memory to store user information such as E-manifest, maintenance records, custody chain, and history. With max read...
Read More »
Designed to support portrait-mounted flat screens, Model FSWP1830 features scissor-action arms that provide smooth gliding action as screen is pulled out from wall. Screen can have less than 1/16th in. clearance around perimeter and still be fully recessed. Two slim release tools are required to pull on latching mechanism release catches underneath screen. With screen fully recessed into wall,...
Read More »
(UPM RFID, Tampere) - Exhibiting at the retail industry's "BIG Show" requires that companies deliver game-changing results. UPM RFID together with leading RFID solution providers Seeonic, Pittsfield ID Technologies, Retailers Advantage and Freedom Shopping are doing just that at the National Retail Federation's (NRF) 100th Annual Convention and Expo, held January 9-12, 2011, at the Jacob K....
Read More »
Visit CES Booth 3237 to See This Year's Must-Have Tablet Accessories LAS VEGAS - CES - At this year's International CES 2011, Accessory Workshop, the developer of cool accessories for the latest technologies, will be showcasing its line of tablet accessories in booth number 3237 in the North Hall of the Las Vegas Convention Center. New products on display will include: an expansion of the...
Read More »
Introducing a combined solution with Adtraxion Systems, enabling a new way of managing digital signage Breda, The Netherlands - Adtraxion Systems, a leading provider of digital signage solutions in Europe, today announced that it has signed a partner agreement with Princen Internet Diensten (member of Princen Group). Together Adtraxion Systems and Princen Internet Diensten offer companies a new...
Read More »
For customized OEM needle and hub designs Edgewood, NY - Needle hub components from Qosina make up a three part combination: hub connector, bushing and cap to create a customized fluid delivery or withdrawal system. The polycarbonate hubs are available in four different body styles (round, rectangular, octagonal and anatomic), each with a unique profile and finger grip. Stock sizes include 14,...
Read More »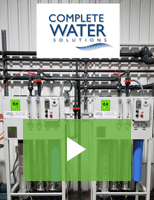 Complete Water Solutions provides full installation tailored to your water treatment needs. Check out the video to learn more.
Read More »