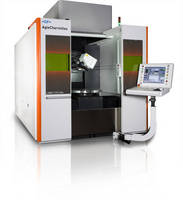 Lincolnshire, Illinois - GF AgieCharmilles will spotlight its LASER 1200 5Ax laser ablation center, CUT 200 wire EDM and FORM 20 diesinking EDM at the 2011 Canadian Manufacturing Technology Show, taking place October 17 - 20 at the Direct Energy Centre in Toronto. The machines will be featured inside Elliott Matsuura Canada, Inc.'s exhibit space, booths 2300 and 2400. One of six laser ablation...
Read More »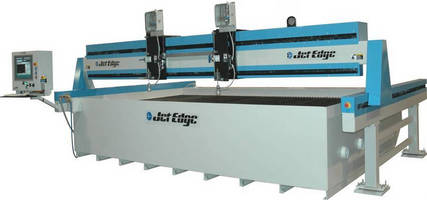 Jet Edge X-Stream Waterjets Cut Up to 50% Faster,Reduce Operating Costs up to 40% ST. MICHAEL, Minn. - Jet Edge, Inc., a leading manufacturer of ultra-high pressure waterjet systems, will demonstrate its 90,000 psi water jet cutting technology at the Canadian Manufacturing Technology Show (CMTS) Oct. 17-20 in Toronto. Look for Jet Edge in the Elliott-Matsuura Canada Inc. booth 2216. During CMTS,...
Read More »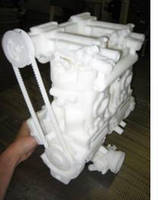 Novi, MI, August 2, 2011 - Attendees seeking to explore the unparalleled benefits that laser-sintering offers to the rapidly expanding unmanned aerial vehicle (UAV) industry can get a good start at Booth 1216 at the AUVSI Unmanned Systems North America 2011 (Washington, D.C., Aug. 16-19). There EOS, the world-leading manufacturer of laser-sintering systems, will be demonstrating UAV parts and...
Read More »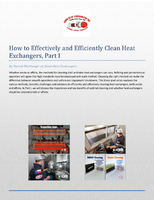 An introduction to a three part series about the importance, benefits, and methods of cleaning heat exchangers.
Read More »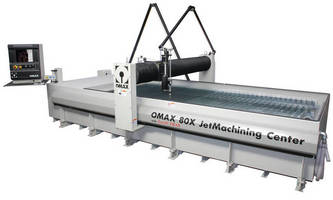 Kent, Washington, July 27, 2011 - OMAX Corporation will demonstrate its highly accurate 80X JetMachining Center at the 2011 Canadian Manufacturing Technology Show, taking place October 17-20 at the Direct Energy Centre in Toronto. Visitors to Spark & Co.'s booth 1910 will experience this large format abrasive waterjet system equipped with the revolutionary EnduroMax(TM) pump and Tilt-A-Jet®...
Read More »
TM Limited, a leading provider of CNC machining, Screw Machine Parts and Precision Sheetmetal Fabricating is pleased to announce new Waterjet Service to meet the rising demand of the marketplace. This Ultra - Waterjet cutting and Machining Process allows parts to be produced from most materials up to 6 thick and over 6" x 12" with tolerances as close as +/- .003 and positional accuracies of +/-...
Read More »
Morgan Technical Ceramics (MTC) announced that its ElectroCeramics manufacturing site in Bedford, Ohio designs and manufactures a comprehensive range of precision piezoelectric ceramic components made of lead zirconate titanate (PZT) for use in aerospace, medical, industrial, commercial and consumer sensor and actuator applications. The company can produce intricate piezoelectric designs that...
Read More »
Portland, OREGON - Connor Manufacturing Services, Inc. has added a new LASER cutting system- its rapid precision and efficiency adds quality to the process and end manufactured good. In response to changing market conditions, Connor has positioned themselves to further improve their abilities to meet customer demands for rapid response to needs, ease of doing business, and access to its strategic...
Read More »
Fractional laser resurfacing systems are available as iPixelCO2, for use with Pixel CO2 system, that channels 70 W of energy into 7 pixels. Pulses are released as roller wheels turn, regardless of speed at which handpiece is moving. Model iPixelEr systems, for use with HarmonyXL laser, utilize iPixelEr, 7 x 7 mm stationary, and 4 mm Erbium tips. Both feature roller-style technology that maximizes...
Read More »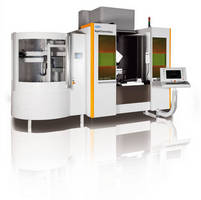 Lincolnshire, Illinois - GF AgieCharmilles will be focusing on its LASER series of laser ablation centers at MicroManufacturing Expo 2011. The company will occupy booth #103 at the event, which will take place April 5- 6 at the Drury Lane Convention Center in Oakbrook Terrace, Illinois. With the LASER series, GF AgieCharmilles expanded its offerings to include laser ablation, in addition to wire...
Read More »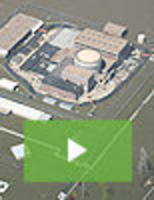 Aqua Dam is the ultimate solution for large-scale water control projects. It combines lightweight, large size, and portability all in one innovative product. To learn more about the uses, and applications of Aqua Dam, or to see it in action, check out our new video to get all the details.
Read More »