Online Service optimizes laser cutting.
Press Release Summary: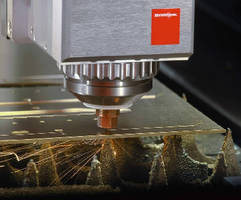 Creating optimal cutting plans for accurate laser cutting, ByOptimizer is based on Cluster technology by Tomologic, which groups part geometries on sheet so tightly that no raw material is wasted on gaps between parts. Software can call on database of over 300 process parameters that take into account geometry of parts to be cut, raw material type, thickness, and laser power. Comprehensive information is available for generating not only efficient but also safe cutting cycles.
---
Original Press Release:

Online Service Revolutionises Laser Cutting



Swiss sheet metalworking machine manufacturer, Bystronic, has introduced a new online service, called ByOptimizer, that creates optimal cutting plans for accurate and cost-effective laser cutting.



Sheet processing lasers are constantly becoming faster and more powerful, but that does not guarantee profitable cutting. A large part of the profit margin when profiling sheet metal parts is determined by the efficiency with which parts are grouped, or nested on each sheet.



The more parts that can be cut, the higher the material utilisation and the lower the overall production time for each batch of components. A consequential benefit is a reduction in power usage.



Until now, preparing detailed cutting plans required a great deal of time and know-how, but ByOptimizer does the job automatically and quickly. It is based on new Cluster technology by Swedish company, Tomologic, which groups part geometries on a sheet so tightly that no raw material is wasted on gaps between parts.



Compared with traditional cutting plans, ByOptimizer typically achieves a 15 percent material saving on a standard 2 m x 1 m sheet. If a batch can be completed using fewer sheets, set-up time is also saved.



The tightly spaced components are cut out of the sheet using the shortest possible cutting paths, resulting in faster job processing. Depending on component complexity and material thickness, Bystronic asserts that a batch of 60 components takes 19 per cent less time to profile out of a single sheet with a ByOptimizer plan compared with using a traditional cutting plan.



Bystronic's new software also improves safety. It can call on a database of over 300 process parameters that take account of the geometry of the parts to be cut, raw material type, thickness and laser power. Comprehensive information is therefore available for generating not only efficient but also safe cutting cycles.



Implementation is easy for users, without high investment costs for new hardware or software, as ByOptimizer is an online service. All a user needs to start using the service is a PC with an internet connection, Bystronic's latest BySoft 7CNC software and a Bystronic laser cutting system.



In cooperation with Tomologic, Bystronic provides the necessary processing power for creating the optimised cutting plans. ByOptimizer sends a query to the Tomologic server for each cutting job, where the incoming data are processed and returned via a secure network. In minutes, an optimised cutting plan is ready to download to the machine's control system.



On behalf of:   

Bystronic UK Limited

6 Wayside Business Park

Wilsons Lane, Coventry, CV6 6NY

Tel: +44 (0)844 848 5850

Fax: +44 (0)844 848 5851



Contact:

David Larcombe

Managing Director

E-mail: david.larcombe@bystronic.com

Web site: www.bystronic.com

More from Mechanical Power Transmission