Waterjet Systems combine capacity and efficiency.
Press Release Summary: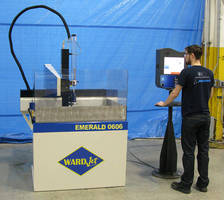 With rigid and sturdy tank design, ballscrew drives, and cantilever-style arm, Emerald 0606 can handle 2 in. sheet of foam or 12 in. thick stainless steel without increased stress. Cutting envelope is 2 x 2 ft, and there is 12 in. of Z-travel. Emerald 0612, offering similar features, has cutting envelope of 2 x 4 ft and can index sheets of unlimited length from front to back. Cantilever-style arm is ballscrew driven, and tank offers extra support.
---
Original Press Release:

Low Cost Small-Scale Waterjet Systems from WARDJet



WARDJet is excited to introduce the Emerald 0606 (2' x 2') and the Emerald 0612 (2' x 4') to the waterjet industry.



The smallest waterjet ever manufactured by WARDJet, the Emerald 0606 is designed to offer all the quality of a large, expensive waterjet cutting system at a reduced size and cost.  Because of its rigid, sturdy tank design, the Emerald 0606 is capable of handling 12" thick stainless steel just as easily as a 2" sheet of foam.



The Emerald 0606 offers a cutting envelope of 2' by 2' and 12" of Z-travel and is uniquely designed with ballscrew drives and a cantilever-style arm. Designing around a short-travel, cantilever architecture, effectively balances minimizing machine footprint and number of moving parts, while maximizing cutting envelope and maintaining overall stiffness.



The Emerald 0612 offers double the cutting envelope (2' by 4') but offers similar features. The cantilever-style arm is ballscrew driven, the tank is beefed up for extra support, and the overall footprint is small. The Emerald 0612 offers the advantage of indexing sheets of unlimited length from front to back - standard 4' by 8' sheets of material up to 2" thick can be cut with greater convenience.