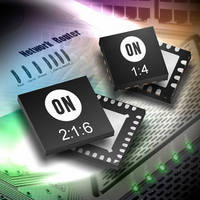 Low voltage drivers provide datacom and telecom equipment manufacturers with increased data rates and higher levels of signal integrity PHOENIX, Ariz. - ON Semiconductor (Nasdaq: ONNN), a premier supplier of high performance, energy efficient silicon solutions for greener electronics, today announced an expansion of its family of clock drivers, with the release of the NB7L585, NB7L585R, NB7V585M...
Read More »
Supplied in 1 x 1-4 mm WL-CSP, IntelliMAX(TM) FPF110x series integrates analog switch control functionality and offers 35 mW RON typ. It allows direct load switch interconnection into most MPUs for software-transparent operations. Based on power CMOS silicon, series eliminates need for additional input capacitors and offers protection through integrated slew rate control. Slew rate options of 65...
Read More »
Housed in QFN64 9.0 x 9.0 x 1.0 mm package, Model STHV748 provides 4 independent channels, each generating high-voltage pulses to drive piezoelectric crystals or other transducers. Device integrates CMOS digital control logic, analog level translators, MOSFET gate drivers, and N- and P-channel MOSFET output stages in self-biasing architecture. Controller features -
Read More »
Designed to boost control functions in tunable optical modules, Model ADuC7122 includes 32-bit ARM7TDMI processor core operating at 41.78 MHz with 8 KB on-chip SRAM, 128 KB on-chip EEPROM memory, and software-triggered in-circuit re-programmability. Model ADuC7023, intended for fixed frequency laser applications, offers 8 KB SRAM, 62 KB flash/EEPROM memory, and 19 general-purpose I/O pins. Both...
Read More »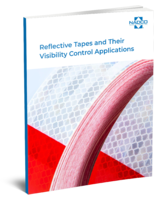 This ebook provides an overview into reflective tapes and their visibility control applications.
Read More »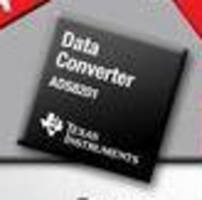 Supplied in QFN-16 package, ADS8201 simplifies compact, power-sensitive, and multi-sensor-based portable designs. Complete on-chip system, rated to 100 kSPS, draws 600 -µA supply current at 2.2 V and offers system processing capability by integrating complete analog signal chain of 4 chips into one. In addition to 8-deep FIFO that permits flexible data reading, IC offers single-ended and...
Read More »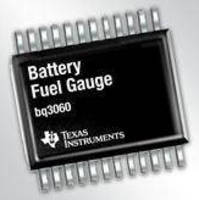 Supplied in 24-pin, 7.8 x 6.4 mm TSSOP, bq3060 turns lithium-based battery into smart battery that measures and maintains accurate record of available capacity, voltage, current, temperature, and other critical parameters. Safety is also ensured via SHA-1 authentication as well as short-circuit and discharge protection. Consuming less than 69 -µA, IC supports 2-wire SMBus 1.1 interface with 400...
Read More »
Housed in 7 x 7 mm, 48-pin LQFP package, Model LTC2757 is 18-bit accurate over -
Read More »
Housed in low-profile DFN package, 1 A linear mode, constant-current Model DLD101 is suitable for flashlights and lighting in emergency, garden, and poolside applications. By integrating base accessible pre-biased transistor, LED driver incorporates biasing resistors on chip, so LED current is set via single external resistor without additional boost resistor. For pass element, high drain current...
Read More »
Designed for single-coil brushless DC fans/motors, AH5798 includes full-bridge driver with soft switching that supports source and sink currents up to 300 mA. Its locked rotor detection and self restart protect coil from overheating or burning out and initiate automatic restart once locked rotor is released. Tachometer open-drain output simplifies interface for external status/speed monitoring....
Read More »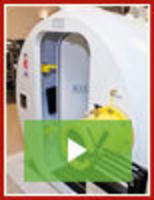 Tekna is a leader in Monoplace and Multiplace Hyperbaric Chambers for Hyperbaric Oxygen Therapy (HBOT), offering products that set the standard for quality and innovation. Our new 7200 series of multiplace chambers is a state-of-the-art system that integrates advanced engineering with a plethora of features and options making it the industry's premier HBOT system. To learn more, see our video.
Read More »