Latest Functionality Allows Spatialization and Two Channels of Equalization, All of Which Are Handled in a Single QF1Da512 Audio SavFIRe Chip Date: July 27, 2009 ALLEN, TX - Quickfilter Technologies today announced immediate availability of its WideAudio(TM) stereo spatialization capability for use in its QFIDa512 Audio SavFIRe chip. In smaller-sized stereo products such as iPods-® and MP3...
Read More »
Manufactured using 65 nm low-leakage CMOS process and CoolAdjust power-gating technology, Fujitsu MB86K23 mobile WiMAX baseband IC supports channel bandwidths including 3.5, 5, 7, 10, and 20 MHz, along with 64 QAM, 16 QAM, and QPSK adaptive modulation schemes. WiMAX Forum Wave 2 mobile device certified unit provides wireless access using 512/1024/2048 FFT OFDMA with integrated MAC processors, and...
Read More »
Femtocell Station Modem(TM) (FSM(TM)) chipsets utilize 3GPP HSPA+ broadband speeds as well as CDMA2000-®, including 1X and EV-DO Rev. A and Rev. B. They include baseband functions, network listen, and integrated RF capabilities for all major wireless bands. Suited for residential and enterprise applications, chipsets also feature techniques that address interference between femtocells and macro...
Read More »
Utilizing HSDPA/HSUPA for broadband data speeds over 3G networks, Mobile Station Modem(TM) MSM7227(TM) can support leading mobile operating systems, including Android, Symbian S60, Windows Mobile-®, and BREW-® Mobile Platform. Chipset features 600 MHz applications processor with floating point unit, 320 MHz application DSP, and 400 MHz modem processor, as well as hardware-accelerated 3D...
Read More »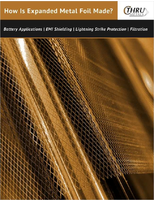 Expanded metal foil is a lightweight coil of metal that has been slit and stretched to create a uniform mesh pattern of openings.
Read More »
Comprised of BCM6368 VDSL2/ADSL2+ gateway SoC and 30 MHz BCM6306 analog front-end companion chip, BCM6368/BCM6306 Chipset provides more than 100 Mbps of symmetric downstream and upstream bandwidth. Chipset enables telecom operators to deploy VDSL2 solution that supports VDSL2 or ADSL2+, multi-port Ethernet switching, and multi-line VoIP capabilities, as well as non-blocking 802.11n wireless and...
Read More »
Suited for Wi-Fi and cordless telephony-based products, XpandR(TM) II Wireless Multimedia Chipset includes multimedia and DECT/EDCT baseband processor, analog front end, RF chips, software, and multimedia peripherals. Unit supports multimedia streaming, web browsing, communication services, and voice. Complying with international IEEE 802.11a/b/g and cordless standards, including ETSI, chipset...
Read More »
Comprised of FX1000 system control interface and FX1041 data access arrangement codec, LSI(TM) FX1000 foreign exchange office chipset enables connections between IP applications such as media gateways and VoIP devices and conventional analog lines. Solution provides Internet-based communications services with backup or alternate routing over PSTN, resulting in integrated communications services...
Read More »
Model STV0903 single-channel satellite TV demodulator operates with 600 mW STV6110A silicon tuner and meets requirements of DVB-S2 standard for broadcast applications, enabling use with H.264/MPEG-4/VC-1 decoders. Packaged in 14 x 14 mm 128-pin LQFP, set-top box chipset consumes 1.2 W and is supported by ST application program interface. Both devices support QPSK (quadrature-phase-shift-keying)...
Read More »
Using integrated and modularized approach, VE890 series enables seamless integration of DSL gateway with PSTN and VoIP services. It conforms to worldwide standards for telephony interfaces (FXS and FXO), whether connecting over IP or looping back to existing PSTN. In addition to VeriVoice(TM) Auditor line testing support, chipset incorporates foreign exchange office (FXO) functionality with...
Read More »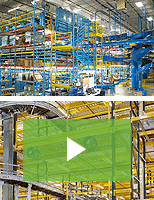 Steel King racks are designed to meet seismic requirements in the most demanding conditions. Our durable storage products help your company save on maintenance costs. Check out our product video or download our Rack Planning eBook to learn more.
Read More »