Winners will be announced October 17, 2012 at the SCTE Cable-Tec Expo IRVINE, Calif.- Comtrend, a global supplier of advanced networking solutions, announced today that two of its products have been named Finalists in the 2012 Communication Technologies Platinum Awards. The honored products are: Comtrend's PG-9141s, a HomePlug AV Powerline adapter with ClearPath(TM) Technology, and the WAP-5836,...
Read More »
LEHIGH VALLEY, Pa.- Air Products (NYSE:APD) will exhibit its portfolio of medical and industrial grade gases for pharmaceutical, biotechnology, and life science applications at the 2012 Mid-Atlantic Bio conference in Bethesda, Md. from September 27-28. Available in a variety of supply modes designed to match requirements from small to large, the company's range of gases can help customers reduce...
Read More »
Exhibiting thermal shock resistance, electrical insulation over 1,800°C, and thermal conductivity,Â- Combat® AX15 high-purity (99.7+%) hexagonal boron nitride has open porosity that permits flow of process gases where outgassing is required. It can be machined into intricate shapes with tight tolerances using standard machining tools and suits direct contact,...
Read More »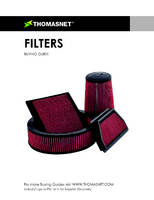 It can often times feel overwhelming selecting the right filtering product for your needs. This buying guide gives the basic definition of what a filter does, and goes on to outline in more detail the various types of filters that are available on the market, and what they do.
Read More »
Micro Surface Corporation is pleased to announce that Applied Tungstenite Corporation of Temecula, California has been granted a license for its WS2 technology for the Southwest including California, Arizona, and Utah. Applied Tungstenite has built a new facility that incorporates state-of-the-art passivation lines and WS2 processing. Principals Eric and Pete Woods offer over 25 years of...
Read More »
THE WOODLANDS, Texas - Arizona Chemical, a world leader of bio-refined products, announced it has entered into an exclusive agreement with Nexeo Solutions to distribute its SYLFAT(TM) tall oil fatty acid (TOFA) and SYLVATAL(TM) distilled tall oil (DTO) in the U.S. This agreement takes effect November 1, 2012. SYLFAT(TM) is a tall oil fatty acid (TOFA) that is used in a wide range of applications...
Read More »

Last month, an article was published on Thomasnet.com, titled Energy and Carbon Management Are Increasingly on Manufacturers' Radar". This article, written by Al Bredenberg, explains manufacturers are increasingly focusing efforts on managing their energy consumption and carbon emission levels. Manufacturers are placing programs in place in order to become more energy efficient, to comply with...
Read More »
Chemlon® 813 CI and 830 GHI fiber-reinforced compounds, based on nylon 6/12 polymer, provide chemical resistance and minimal moisture absorption required in fuel line components for automotive industry. With 13% loading of carbon fiber, Chemlon 813 CI provides antistatic conductivity. Chemlon 830 GHI compound has 30% loading of glass fiber, promoting strength and rigidity in applications...
Read More »
Mettler-Toledo Safeline has launched its new test samples, offering manufacturers robust samples to ensure their metal detection and x-ray inspection systems comply with increasingly stringent global food safety legislation. Test samples are a core component of any well-maintained inspection system. Growing pressure on food manufacturers to meet government and retailer regulations regarding...
Read More »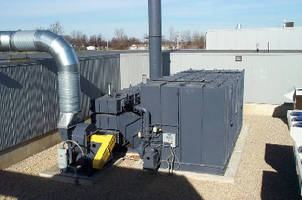 Provided in skid-mounted, prepiped and wired modules, Flameless RETOX Regenerative Thermal Oxidizers feature flow rates from 1,000-80,000 cfm and are suited for dust and particulate laden VOC processes. Units provide 99% VOC abatement with dual chamber, corrosion-resistant ceramic heat exchanger rated up to 97% effective for primary heat recovery. Flameless natural gas injection operation does...
Read More »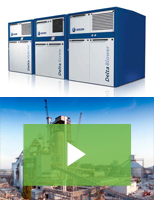 Aerzen offers blowers and compressors for challenging cement applications such as pneumatic conveying from raw mill to raw meal silos, combustion air, cement silos fluidization, and more. At Aerzen, safety is our top priority. Check out our video to learn more.
Read More »