New LAS 200.1 Laser Fume Extractor Provides High Flexibility in Changing Process Conditions
Press Release Summary: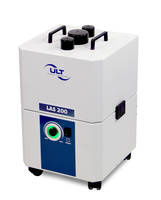 HEPA filter is offered in combination with an adsorption filter for increasing the main filter's separation rate up >99.995%
Pre-filter package along with filter mat and panel filter enables considerably longer filter life
Can be combined with various capturing elements such as extraction arms or hoses/tubes (DN 50, 75, 80)
---
Original Press Release:
New Laser Fume Extraction Unit Provides Improved Filtration Performance
The LAS 200.1 laser fume extractor is the latest member of ULT's new product generation ULT 200.1. The compact, mobile system scores highly through a new filtration concept that significantly increases pollutant separation efficiency.
A newly designed pre-filter package including filter mat and panel filter enables for a considerably longer filter life, which results in significant long-term cost savings: Utilized coarse dust and fine dust filter according to Standard ISO 16890 decisively increase the H14 main filter's durability. The HEPA filter according to Standard DIN EN 1822 is offered in combination with an adsorption filter for a further increase of the main filter's separation rate up to >99,995%.
The laser fume extractor's modularity provides high flexibility in regards to changing process conditions, as the unit can be equipped with additional filter modules if required.
The LAS 200.1 unit can be combined with various capturing elements, such as extraction arms or hoses/tubes (DN 50, 75, 80), enabling pollutant removal at up to four individual workplaces.
The particularly developed ecoflow CS® technology increases and reduces the system's exhaust performance automatically, depending on the number of extraction points. Thanks to this integrated vacuum stabilization and selectable pressure ranges, the LAS 200.1 unit's extraction performance is adaptable flexibly to the required pollutant capturing. In addition, the ecoflow CS technology can automatically compensate pressure losses caused by loaded filters.
An integrated M12 interface enables for communication with a superordinate laser processing system. Therefore, it is possible to run the fume extractor during active utilization of a laser system, thereby reducing costs and is considerably more comfortable for system operators.
Another added value is an extensive range of original accessory parts, specially conceptualized for the ULT-200.1-device series. Hence, users save valued time in the search for accessories and their adaptations to individual pollutant capturing situations.
About ULT AG:
Founded in 1994, ULT AG is a leading vendor of high efficiency fume extraction technology and process air drying solutions. The broad range of equipment has been designed for use in various industries, covering a multitude of applications. Among the solutions offered, there are standard products as well as custom-built units for special applications. ULT AG provides customers in Europe, Asia, North America and Australia with fume extraction systems for material processing as well as onsite services. The company has been DIN EN ISO 9001 certified for more than 20 years.
Additional information on ULT and its products can be found online at www.ult.de/en.
Press Contact:
ULT AG
Stefan Meissner
Am Goepelteich 1
D-02708 Loebau
Tel.: +49 3585 41 28 474
Fax: +49 3585 41 28 11
Email: meissner@ult.de
Web: www.ult.de
Related