Wear Compounds reduce friction, maintain mechanical properties.
Press Release Summary: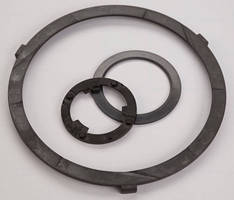 Featuring tribological profile that lends to preservation of mechanical performance, LUVOCOM® 8000 PEEK™ wear compounds have deposits of lubricant that eliminate need for additional surface lubrication. Wear factors provided by these materials afford opportunities in automotive, industrial, medical, and energy markets for applications such as thrust washers, bushings, seals, and other wear components.
---
Original Press Release:

Lehvoss Introduces a New Series of Improved PEEK Wear Compounds



PAWCATUCK, CT USA — Lehvoss North America, a subsidiary of Lehmann & Voss, has introduced LUVOCOM® 8000, a new series of PEEK wear compounds.  By substituting traditionally used PTFE with new proprietary additives, the company has made it possible to further elevate the wear resistance of PEEK compounds.



Though it is well known that in thermoplastic materials PTFE lowers wear rates, it is not always recognized that it also decreases mechanical properties of the compound.  Through research and testing, Lehvoss designed the new LUVOCOM 8000 product line to have a tribological profile significantly surpassing previously known materials while also preserving mechanical performance.



In one case study, thrust washers and bushings were tested with results showing up to three times lower wear rate of the LUVOCOM 8000 series when compared to an industry standard PEEK compound lubricated with PTFE.  The 8000 series materials demonstrated lower wear factors (K), showing superior wear performance against metals such as stainless and carbon steels, aluminum, and hardened bearing grade steel.



An innovation driven by customer demand, in combination with the detailed knowledge and experience of the company, LUVOCOM 8000 has opened up new opportunities in the automotive, industrial, medical, and energy markets for applications such as thrust washers, bushings, seals and other wear components.



For more information about the new LUVOCOM 8000 product line, please call (855) 681-3226 or visit http://lehvoss.net/en/product-groups/lubricant-modified.



About Lehvoss North America

Lehvoss North America, a subsidiary of Lehmann & Voss, provides LUVOCOM® high-performance compounds and solutions into the North American market. The compounds are manufactured in Germany, USA, and Asia. Lehmann & Voss is a chemical company and for almost 120 years a provider of chemical and mineral specialties to industrial customers. Established in 1894 as a trading company, today Lehmann & Voss is recognized as a leader in high performance material technologies with global manufacturing facilities and a technical sales organization supporting customers worldwide.

.

Contact:

Kris Jommersbach

Gemini Communications

PH: + (1) 610-935-1633

krisj@geminiinc.com

More from Material Processing