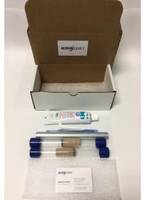 Rotor Source is providing Free Desiccant Testing Kits to anyone who is interested in testing the current performance of their Desiccant Rotors. Simply reach out to Andrew Goland (contact info below) to request your kit. Rotor Source will then mail you the necessary equipment to collect a sample of your rotor. The instructions are easy to follow and the entire process takes less than 5 minutes....
Read More »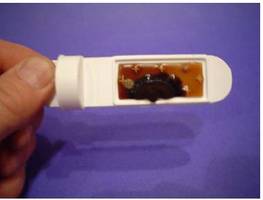 Most diesel engine problems are related to fuel problems. Diesel fuel contamination problems have two different perspectives: biology and chemistry. Thinking you have a chemical problem when you have a biological problem and treating it with the wrong chemical will not solve your problem but may compound it. The approach of the chemical salesman "this will solve your problem" after you have...
Read More »
This test will indicate the smallest amount of suspended water in diesel. Depending on the fuel blend and the amount of biodiesel you may see between 1000 PPM and 1500 PPM will be detected. Any detection of suspended water is not good if the detection powder turn 100% pink. The kit consists of 5 each 2 dram glass vials with the reaction powder capsule in them and one transfer pipette. The test...
Read More »

Water Test Kit consists of five 10 ml test tubes. Unit is equipped with transfer pipette. Product is suitable to detect the amount of biodiesel between 500 PPM and 1500 PPM.
Read More »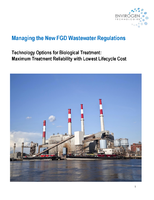 EPA Steam Electric Power Generating Effluent Limitations Guidelines, or ELG's, impact coal-fired power plant operations and their wastewater management. Specifically, the ELG's impose limits for suspended solids, arsenic, mercury, selenium, and nitrate/nitrite for Flue Gas Desulfurization (FGD) wastewater. These regulations drive the need for technology based solutions that address and adapt to variables such as the nature of wastewater streams, types of contaminants, contaminant loading, and costs. In this guide you will learn about the best available technologies for complying with the new standards. One of the leading contenders in this process is the Fluidized Bed Reactor or FBR, which removes soluble selenium and other metals from FGD wastewater. Advantages of fluidized bed reactors include optimum microorganism efficiency, smaller overall footprint, steady-state operation, lower hydraulic residence times, system robustness, and lower costs. Download this guide for additional information on FBR technology for treating FGD wastewater, including pilot studies and tests, and polishing selenium removal options.
Read More »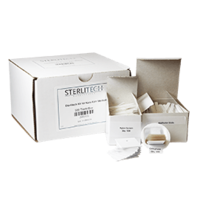 In last October's newsletter, Sterlitech announced the availability of kits for performing the Kato-Katz analysis technique for Soil-Transmitted Helminthiasis (STH) in field-based applications, signifying the first time that these kits were available from a source in the United States. Prior to this, the efforts of research groups and health organizations could be hampered by limited...
Read More »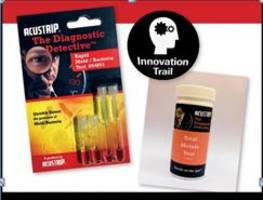 ACUSTRIP Company, Inc. leading fluid diagnostics since 1989 continues to bring new innovations in vehicle fluid diagnostics. ACUSTRIP® products have been proven effective with Automotive & Truck service providers, DIYers and OEMs worldwide. Customers praise the ACUSTRIP products for their reliability and ease of use. Acustrip's innovative Mold/Bacteria test and newly designed 2-pad Wear Metals...
Read More »
Used for pre-employment screening, FDA-approved QuikScreen Drug Testing Cups detect drugs such as Amphetamine, Cocaine, Opiates, Tri-cyclic Antidepressant, Propoxyphene, and Methamphetamine in urine samples within 5 minutes. CLIA-waived products do not require any handling or manipulation to activate test. Providing 18-24 month shelf life, each cup includes temperature strip and identification...
Read More »
FDA-approved and CLIA-waived, the QuikScreen Multi 11 Drug Test Cup is a visually read competitive binding immunoassay method for screening. A reliable supplier of laboratory equipment based in New York, Block Scientific is offering the QuikScreen Multi 11 Drug Test Cup (AMP 1000, BAR 300, BUP 10, BZD 300, COC 300, MTD 300, MET 1000, OPI 300, OXY 100, PCP 25, TCA 1000). This FDA-approved and CLIA...
Read More »
Block Scientific supplies the QuikScreen Multi 11 Drug Test Cup, a quality binding immunoassay method for screening without instrumentation Block Scientific, an established supplier of laboratory equipment based in New York, is offering the QuikScreen Multi 11 Drug Test Cup at great pricing. This qualitative visually read competitive binding immunoassay method for screening is FDA Approved and...
Read More »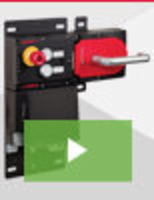 The new MGB with EtherNet/IP is a leap forward in access door safety. Designed for easy installation, flawless performance, and long service life, it is engineered with robust features and cutting-edge technology that places it firmly at the leading edge of the door safety device industry. To learn all about the benefits of the Euchner MGB, see our video.
Read More »