Designed to dry or cure liquid and powder coatings on wide range of products, Horizontal Conveyorized Infrared with Air Drying System features electric infrared heaters with integral air plenums and controls; air supply and exhaust system; and insulated oven enclosure. System can be used as stand-alone complete horizontal conveyorized drying/curing system or in conjunction with coating...
Read More »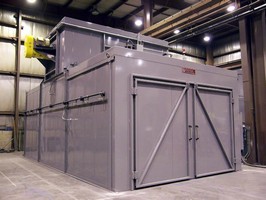 Wisconsin Oven, manufacturer of a broad range of industrial ovens, currently has in stock and ready for shipment a new gas fired heavy duty batch oven designed for the composite curing industry. The oven has work chamber dimensions of 12'0" wide x 28'0" long x 8'0" high and a maximum operating temperature of 500º F. In addition to composite curing this oven can be used for several other...
Read More »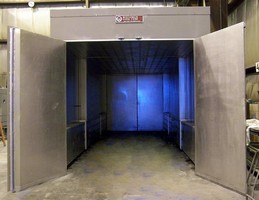 January 11, 2008 Wisconsin Oven designed and manufactured two (2) electrically heated batch ovens for low to medium temperature resin curing of composite material (Kevlar) on military vehicles which will provide additional personnel protection for the troops in Iraq. The ovens have work chamber dimensions of 8'0 wide x 24'0" long x 8'0" high and maximum operating temperatures of 500Â-º F....
Read More »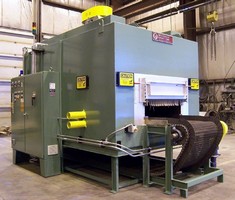 With production rate of 600 lb of parts/hr, Electrically Heated Conveyor oven is designed to heat parts from 70-1,100°F, and features 1,250°F maximum operating temperature. Constructed with 10 in. thick insulation, 3/16 in. thick plate steel exterior, and 16 ga 304 SS interior, it has 30 in. wide, 9 ft long, and 1 ft high heating chamber. Heating system is rated for 180 kW of heat...
Read More »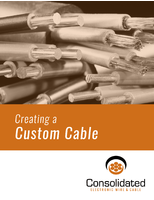 Consolidated Electronic Wire & Cable's new eBook, Creating a Custom Cable, reviews the key elements to designing your perfect custom-made cable solution.
Read More »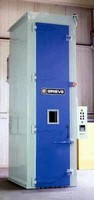 No. 986 is an electrically-heated, 500ºF (~260ºC) vertical airflow walk-in oven from Grieve, currently used for curing composite parts at the customer's facility. Workspace dimensions measure 30" W x 24"D x 144"H. 30KW are installed in Incoloy sheathed tubular elements to heat the unit, while a 4200 CFM, 3-HP recirculating blower motor provides combination airflow to the workload. This...
Read More »
Wisconsin Oven designed and manufactured two Electrically Heated Conveyor ovens to perform hydrogen embrittlement relief on locking wheel lugs at a maximum production rate of 1,600 pounds of parts per hour for each oven. Each oven has a 4'2 wide x 31' long x 9" high heating chamber and a 500°F maximum operating temperature. The equipment is constructed with 4" thick tongue and groove panel...
Read More »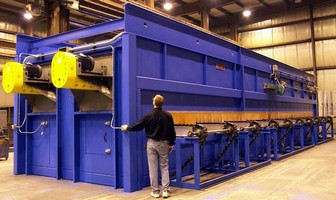 Along with 12 ft x 47 ft x 9 in. chamber rated to 500Â-ºF max, bottom-flow conveyor oven features chain style conveyor with 10 strands of carbon steel chain spaced across width on 60 in. centers. Heating system features Eclipse 320 AH burner rated at 3,000,000 BTU/hr, and Allen-Bradley Powerflex VFD provides conveyor speed adjustability from 1.5-9 ipm. Oven is constructed with 4 in. thick...
Read More »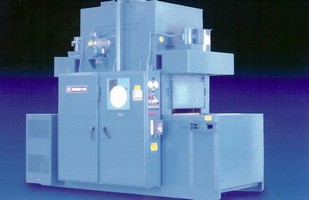 No. 894 is a 650°F electric heat belt conveyor oven from Grieve, currently used for sintering Teflon material onto flat sheets at a customer's facility. The workspace dimensions of this unit measure 30"W x 48"D x 15"H. Workloads travel on a 24" wide, 1/2" x 1/2" 316 stainless steel conveyor belt, driven by a 1/4 HP motor drive, variable from 0.4 to 8.4 inches per minute. An 18" long open...
Read More »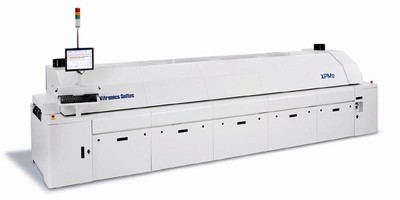 Stratham, New Hampshire, USA - Customers of Vitronics Soltec's successful XPM2 Reflow System can now get all of the performance and reliability that the system is known for, plus some enhanced features, in the XPM2+. There's a lot that's new, while the exterior of the XPM2+ boasts a better, leaner look, the main enhancements are to its conveyor system; cooling system; electrical control system;...
Read More »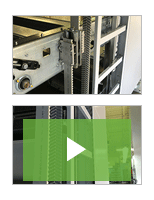 Megadyne's QST polyurethane timing belts take up less space and guarantee a lower noise level than chain and other traditional material handling belts. Check out our video to learn more.
Read More »