Thermal Product Solutions Ships Blue M Inert Gas Oven to Electronic Components Manufacturer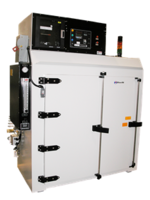 Thermal Product Solutions, a global manufacturer of thermal-processing equipment, announced the shipment of one (1) Blue M Inert Gas Batch Oven to a manufacturer of electronic components.
This Blue M inert gas oven has a temperature range of 15°C above ambient to 593°C. The interior work chamber dimensions are 25" W x 20" D x 20" H. All seams and entrance ports in this batch oven were welded gas tight to minimize inert gas leakage and to maintain a low oxygen atmosphere with minimum gas flow.
The Blue M inert gas batch oven features a direct drive ball bearing ½ Hp motor with a balanced stainless-steel multi-blade blower wheel to provide horizontal airflow, where the air moves from right to left. This type of airflow maximizes heating rates within the oven chamber.
"This Blue M oven shipped out with two maintenance part kits in order to prevent costly maintenance in the future. This customer is supplied with spare parts to keep the oven in like-new operating condition." – Ashlee Kaczorowski, Blue M Product Manager
Unique features of this Blue M batch oven include:
Reinforced type 304 stainless steel interior for maximum heat and corrosion resistance

Direct drive ball bearing ½ Hp motor with balanced stainless-steel multi-blade blower wheel

460V/480V 3 Phase 60 Hz electrical power

21 kW heat input

Ethernet communications standard with controller

Watlow F4T with INTUITION temperature process controller

4.3-inch color touch panel with high-resolution graphical interface

40 ramp and soak profiles with real-time clock and battery backup

Ethernet Modbus TCP connectivity

High-speed USB 2.0 host port

Two (2) preventative maintenance kits with spare parts