GRAND RAPIDS, MI --- Dematic, a leading supplier of logistics systems for the factory, warehouse, and distribution center, and Crown Equipment Corporation, one of the world's leading forklift manufacturers, today announce an alliance to collaborate on the research and development of new products that improve warehouse and distribution center productivity. The two companies are proud to introduce...
Read More »
HOUSTON - Egemin Automation Inc. (Egemin), the foremost manufacturer of Automated Guided Vehicle Systems, announced that Mitsubishi Caterpillar Forklift America Inc. (MCFA), the leading provider of forklift trucks in the United States, Mexico, Canada and Latin America, is the primary component supplier for Egemin's Hybrid Automated Guide Vehicle (AGV). Egemin highlighted MCFA's contributions to...
Read More »
Farmington Hills, Mich. - The U.S. Patent and Trademark Office has awarded Jervis B. Webb Company - a wholly-owned subsidiary of Daifuku Co., Ltd. and leading provider of material handling solutions - U.S. Patent No. 7,648,329 for its Automatic Trailer Loading and Unloading technology. Webb uses this patented technology in its SmartLoader® Automatic Guided Vehicle (AGV), which can load and...
Read More »
Exhibit to Feature Demonstrations of the Company's New SmartCart® Models, as well as a Newly Enhanced SmartLoader® Automatic Trailer Loading Vehicle FARMINGTON HILLS, MICH. (March 20, 2008) - Jervis B. Webb Company - a subsidiary of Daifuku Co., Ltd., and leading provider of innovative material handling solutions - will introduce four new SmartCart Automatic Guided Cart (AGC) models at the NA...
Read More »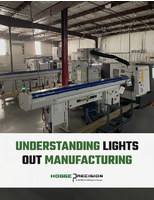 This white paper gives an overview of understanding lights out manufacturing.
Read More »
Used in palletizing applications, Q20ZA automated guided vehicle (AGV) is equipped with dual Sick S300 Safety Laser scanners that provide 360-
Read More »
Greenville, Wis. (May 10, 2007) - QComp Technologies, Inc., an authorized ABB robotics integration company, announced today it will offer the new Virtual Pallet Dispenser VPal software option with its automatic guided vehicles (AGVs). The VPal AGV software enables the AGV to find and deliver an empty pallet to a manual or automated palletizer, as well as pick up full loads and deliver them to a...
Read More »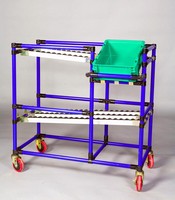 Creform-® Corporation (Greer, SC) has introduced an adaptation of its modular/custom-crafted lineup of Automated Guided Vehicles (AGV) technology with a compartmented vehicle ideal for sequenced assembly operations, kitting materials transport, or for protective conveyance of fragile, delicate components. The simple to design, build and install AGV units are configured using the Creform-®...
Read More »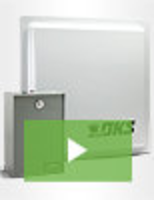 The DoorKing DKS AVI system is at the cutting edge of automotive security technology and represents a leap forward in engineering innovation. When it comes to long-range passive card readers, we lead the industry and set the standard for quality and performance. To find out why the DoorKing DKS AVI system is taking the automotive security industry by storm, see our video.
Read More »