Automated Guided Vehicle Systems
AGV Tugger runs full 8-hour shift without recharging.
Press Release Summary: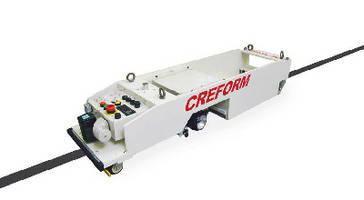 Driving under stationary cart, properly positioned on magnetic tape guidepath, heavy-duty Model BST (undercarriage) AGV extends tow pin into cart's receiver catch and moves it to programmed destination. It then retracts tow pin, leaving cart for intended purpose and moves on to service another cart. Unit features load capacity of 2,000 lb, drawbar of 130 lb, and adjustable control of up to 7 speeds. For safety, AGV has obstacle sensor with 7 sensing areas and 2 outputs, temporary slow and stop.
---
Original Press Release:
New Heavy-Duty BST AGV Tugger Runs Full 8-Hour Shifts Without Recharging
Creform® Corporation, Greer, SC, has introduced a new, heavy-duty model BST (undercarriage) AGV that will operate for a full 8-hour shift without requiring a battery recharge or exchange.  The unit also has the capability to move heavier loads than the other five models in the Creform BST AGV series. 

Like all of Creform BST style AGVs, the unit drives under a stationary cart, properly positioned on the magnetic tape guidepath, extends a tow pin into the cart's receiver catch and moves it to a programmed destination.  It then retracts the tow pin, leaving the cart for its intended purpose and moves on to service another cart.  The AGV can service a large quantity and variety of un- powered carts as long as they have the BST receiver hitch.

The unit's extra large battery compartment accommodates the larger, heavy-duty batteries needed to operate for a full shift.  To support this AGV, Creform offers a battery charging system for use at the end of a shift.  The system allows recharging in the AGV without handling or removing them.  Charging stations have retractable cords on wind-up reels so operators need only turn off the AGV and plug in the battery charger.  A safety interlock ensures that the AGV will not automatically move until the charger is unplugged.  The charger's wind-up reel neatly and safely stores the cord when not in use.

The AGV has a load capacity of 2000 lb (1000kg), a drawbar of 130 lb (60kg) and an adjustable speed control of up to seven speeds.  For safety, it has an obstacle sensor with seven sensing areas and two outputs, temporary slow and stop.  It also has a bumper with emergency stop, a warning/status light and audible warning melody box.

Like all Creform AGVs, it follows a magnetic tape guidepath that can be easily removed and rerouted when needs change.  Creform structural components are used to create an array of material handling and efficiency enhancing devices, including push, hinged shelf and trailer carts, flow racks, roller conveyors and workstations. The Creform System is a proven component in continuous improvement and Lean Manufacturing programs, and the company partners with customers in developing and implementing these programs.

Online at www.creform.com
Creform is a registered trademark of Yazaki Kako Corporation and Creform Corporation
 
More from Electrical Equipment & Systems