Automated Guided Vehicle Systems
Manufacturing System handles pallet loads up to 7,500 kg.
Press Release Summary: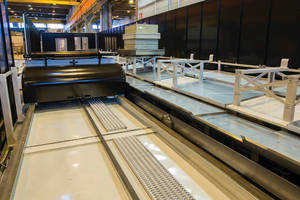 Designed to handle 1,000 and 1,250 mm pallets, FPC-7500 single-level flexible manufacturing system (FMS) features dual-rail guided pallet change vehicle with low-profile design. Accommodating loads up to 7,500 kg, heights up to 2,300 mm, and diameters up to 2,300 mm, this complete FMS is configured with load station and 4 pallet positions as standard but may be expanded to configurations of 6, 8, 10, or 12 pallet positions.
---
Original Press Release:

FMS Solution for Heavy Pallet Loads up to 7500 Kg is Fastems FPC-7500



WEST CHESTER, OH -- Fastems, LLC is pleased to announce the addition of the FPC-7500 to its complete line of "Flexible Pallet Container" type automation systems.  Fastems standard line of FPC's is a progressive alternative to outdated "pallet pool" technology and provides end users and machine tool builders with a complete FMS installed in a "container".  The Fastems FPC-7500 is the newest edition to its line of entry-level FMS solutions.



Like the FPC-3000, introduced at IMTS 2012, the FPC-7500 is a single-level flexible manufacturing system specifically designed to handle 1000mm and 1250mm pallets where large load capacity is required.  Fastems has replaced the typical crane-style pallet changer with a new, dual-rail guided pallet change vehicle sporting a unique low-profile design. This system accommodates loads up to 7500 kg, heights up to 2300mm and diameters up to 2300mm. The standard FPC-7500 is configured with a load station and 4 pallet positions. However, the unit is easily expandable, either initially or in the field, into configurations of 6/8/10/or 12 pallet positions



The FPC-7500 comes equipped with the latest Fastems Manufacturing Management System (MMS) Cell Controller.  Fastems MMS5 software can extend from a single manufacturing cell to a full featured shop-wide system, integrated with other manufacturing plant software, such as ERP and MRP systems and is fully compatible with MT Connect. As with all Fastems FMS equipment, the FPC-7500 can be installed with a new machine investment or can be added to an existing machining center.



"The immediate success and positive customer feedback we have had with the FPC-3000 also indicated that there was strong demand for a larger pallet size and capacity container" said Richard Bodine, Fastems VP Sales & Marketing. "We are very excited about the FPC-7500 and believe it fills an important need in the marketplace."



For more information, please visit www.fastems.com/fpc7500 or contact Richard Bodine, Jr. at Fastems, LLC, toll-free at 866-702-0611, or at richard.bodine@fastems.com.



More about Fastems

Fastems, LLC is a wholly-owned subsidiary of Fastems Oy Ab, Tampere Finland. The company established its Cincinnati-area North American headquarters in 2006 as an open integrator of flexible automation systems. The company provides a variety of extendable and flexible automation systems and robots, including advanced MMS (Manufacturing Management System) controls, stacker cranes, conveyors, loading/unloading stations, pallet magazines and assembly organizers, and raw material stations. These "open" automation systems can be incorporated with virtually any modern CNC machine tool and auxiliary equipment brands. Typical applications range from joining two machine tools together with a Flexible Palletized Container (FPC) to highly sophisticated, factory-wide flexible manufacturing systems. Fastems currently employs 520 people in the U.S., Europe, and Asia.

More from Software