Automated Guided Vehicle Systems
Automated Guided Vehicle offers traveling speed of 90 m/min.
Press Release Summary: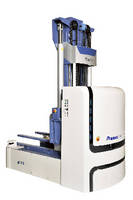 Designed to handle 40 x 48 in. pallets with load capacity of 2,200 lb, Premex SLX features 3-wheel drive system that allows it to turn in its own footprint. Unmanned forklift is compatible with mobile racks and pallet racks, transferring at lifting height of 14 ft. SLAM localization and mapping technology eliminates need for guide path, reflecting plates, or laser guidance. Operating down to -13°F, system can be installed in existing freezing/frozen warehouses.
---
Original Press Release:

Muratec's New Premex SLX Automated Guided Vehicle



Murata Machinery USA, Inc. - Murata Machinery USA, Inc. today announced the North American launch of their New Premex SLX Automated Guided Vehicle.



• High speed / flexible travel with a traveling speed of 90m/min

• Designed to handle 40" x 48" pallets with a load capacity of 1,000 kg (2,200 lbs)

• A practical unmanned forklift compatible with mobile rack and pallet rack transferring at a lifting height of 4.2m (14 feet)

• Using SLAM (localization & mapping) technology eliminates the need for guide path, reflecting plates or laser guidance

• Available at -25C (-13F) degrees, and also allows the system to be easily installed in existing freezing/frozen warehouse.

• Three wheel drive system allows the vehicle to turn in its own footprint



About Murata Machinery

Murata Machinery (i.e. Muratec) has been a global market leader in the design, manufacture and implementation of Automated Material Handling Systems (AMHS) for over 45 years.  We have extensive experience in storage, transportation, sortation and warehouse control systems within distribution centers, manufacturing facilities and clean room environments.  Muratec has installed approximately 25,000 storage/retrieval cranes and 3,500 automated guided vehicles in over 11,000 systems within the following industries: agriculture, air cargo, automotive, beverage and bottle, chemicals, cold storage, food, electronics, pharmaceuticals, paper, printing and publishing, semiconductor, solar/photovoltaic, specialty retail and textile.



Contact us:  Tom Meyers, National Sales Manager



[email protected]



704-972-4474

 

Logistics & Automation Division

2120 Queen City Drive, Charlotte, NC 28208 USA