8437 Mayfield Road
Unit 104
Chesterland, OH 44026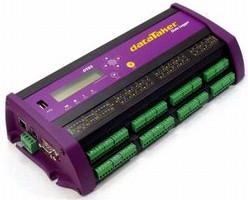 Using web interface, dataTaker DT85 Series 2 provides graphical display of up to 6 channels of real-time data, command interface, on-line documentation, and data retrieval with support for ASCII CSV files. Unit includes up to 48 differential analog inputs and 12 digital/counter channels, as well as USB, Ethernet, and Serial host interfaces. Input channels can measure thermocouples, RTD's,...
Read More »
Featuring dual channel technology, DataTaker DT85 offers up to 32 isolated or 48 common referenced analog inputs. Data logger features regulated 12 Vdc output, universal digital I/O, smart sensor ports, USB memory stick support, and Modbus for SCADA, Ethernet, WEB, FTP, and multiple SDI-12 sensor networks. Unit connects to various sensors for measurement of temperature, voltage, current, 4-20 mA...
Read More »
Chesterland, Ohio April 24, 2007 - Computer Aided Solutions, LLC., a leading distributor of high performance data logging equipment and BrainChild Electronics an international supplier of data acquisition and control products, are pleased to announce an agreement to distribute the VR18 paperless chart recorder in the US. The BrainChild VR18 recorder is an ideal replacement for older paper chart...
Read More »
iLOG Transporter Software Simplifies Operation The new Transporter software for iLOG data loggers is an easy to use utility to upload and download parameters using a PC. Transporter is the ideal tool to use when commissioning one or more iLOG RTU/Data loggers. iLog loggers provide a complete solution including data logger and telemetry system in a compact state of the art device. The offer 4...
Read More »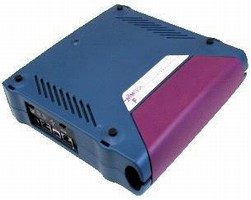 CHESTERLAND, OH - JUNE 28, 2006 - Computer Aided Solution, LCC is pleased to announce they are now an authorized distributor of portable data logging and data acquisition systems manufactured by NIMTECH International SAS., headquartered in Vert Le Petit, France. NIMTECH is a global leader in data acquisition and data logging systems used in industrial measurement applications. Computer Aided...
Read More »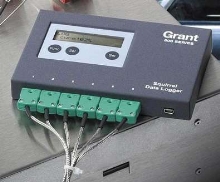 Battery-operated OQ610 accommodates K and T type thermocouple and has 6 input channels. Portable unit, set-up via 3-button operation or directly from PC, automatically detects when sensors are connected. Able to log up to 8 readings/sec, product can be configured to start and stop logging on time or temperature levels. SquirrelView software is included for configuring, downloading, displaying,...
Read More »
Featuring up to 16,000 points of internal data storage, TR-70W Series offers built-in 10/100 base-TX Ethernet, CF slot for wireless 802.11b card, and micro-web server. Internet-ready products also come with LCD display and internal SMTP server for alarm distribution. Model TR-71W features 2 channels of temperature measurement from -60 to +155-
Read More »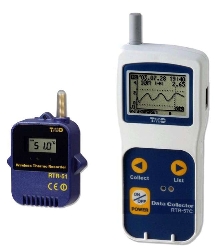 Suited for collecting data from remote locations and moving vehicles, RTR-50 Series includes temperature, temperature/humidity, and voltage/pulse/event loggers as well as hand-held data collector. Products, equipped with backlit LCD and USB interface, can be used in wet, condensing, or freezing environments down to -40-
Read More »