ADwin for CAN-FD Automotive Applications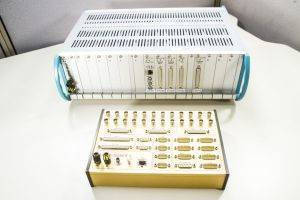 CAN-FD Standard Enables Higher Data Throughput



CHESTERLAND, OH – With a flexible data rate over previous CAN limits, the CAN-FD network protocol provides faster and more reliable data transmission in automotive networks. Larger data payloads improve the CAN protocol's efficiency and result in a higher communications throughput. Already widely in use in Germany, CAN-FD is commonly used in automotive applications such as OEM, system design and in real-time ECU simulation. At CAS DataLoggers we can provide your automotive application with real-time systems from German manufacturer Jager-ADwin. Give our experienced Applications Engineers a call today at 800-956-4437!



CAN-FD for Faster Data Rates:



In 2012 Bosch released CAN FD 1.0, also known as CAN with Flexible Data-Rate. The Can FD specification allows for improved bandwidth in both automotive and general industrial applications. Using a different frame format allowing for faster bit rates and a different data length, CAN FD is compatible with existing CAN 2.0 networks, so new CAN FD devices can coexist on the same network with existing CAN devices.



The ISO 11898-1:2015 standard specifies both the CAN and the CAN-FD protocols. CAN-FD boosts the bit-rate when only a single node is sending data, since synchronization with other nodes is not required. This allows users to break the CAN data transmit speed of 1 Mbit/s in the data phase where bitrate is only restricted by the individual transceiver. CAN-FD is also more reliable owing to improved failure detection.



ADwin for Real-Time Monitoring:

In automotive CAN and CAN-FD applications, German manufacturer Jager-ADwin is ideal for real-time data capture. ADwin real-time data acquisition systems are used for testing Automotive components, sensors and ECU's, electrical component test, control of servohydraulic systems, motion control, laser and ebeam control, signal generation and high speed synchronized data acquisition.



ADwin systems support parallel real-time processes while running independently of the PC's operating system. These systems provide deterministic operation with response times of 1 usec. or less. A key feature of these products is their tightly-coupled analog and digital inputs along with counters which provide extremely low-latency operation.



Flexible Design:



ADwin systems are available in 3 form factors:





The ADwin-Light-16 which offers 8 analog inputs—ideal for small-channel test applications.



The ADwin Gold/Gold II with 16 analog inputs;



and the ADwin-Pro/Pro II Series which utilize a modular form factor with plug-in modules to allow up to 480 analog or digital inputs in a single chassis.



Support and Software:

ADwin also offers a variety of other I/O options including CANbus, SSI, Profibus/Fieldbus, RS-232/485, and signal conditioner modules. Unmatched in the measurement technology industry, ADwin products stay supported regardless of longevity.



The ADwin software environment can be used under Windows

(95/98/ME/NT/2000/XP/Windows 7) and LINUX or as a stand-alone data acquisition system. Also, ADwin has drivers for many of the popular programming environments including VB, VC/C++, LabVIEW, TestPoint and others. Software upgrades are free.



For more information on Jager-ADwin Real-Time Systems, to find the ideal solution for your application-specific needs, contact a CAS Data Logger Applications Specialist at 800-956-4437 or visit our website at www.DataLoggerInc.com.



Contact Information:

CAS DataLoggers, Inc.

8437 Mayfield Rd.

Chesterland, Ohio 44026

440-729-2570

800-956-4437

sales@dataloggerinc.com

www.dataloggerinc.com

More from Explosives, Armaments, and Weaponry