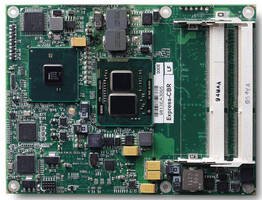 The Express-CBR delivers high performance computing power to the most demanding extreme rugged applications. San Jose, Calif - ADLINK Technology, Inc., a leading global provider of ruggedized embedded products, announced the Ampro by ADLINK(TM) Express-CBR, the latest Extreme Rugged(TM) COM Express(TM) Type 2 Computer-on-Module (COM) of the product lineup. The Express-CBR COM Express(TM) module...
Read More »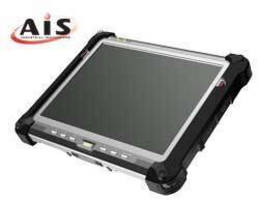 Featuring 1.6 GHz Intel-® Atom Z530 Processor, 10.4 in. Semi-Rugged Touchscreen Tablet PC has transflective LED screen and 2.6 lb chassis with IP54 rated water/dustproof resistance, multiple 3 ft drop rating, and shock/vibration protection. Unit's fanless processor allows for silent operation, while primary and hot-swappable 2nd battery allow for 24/7 continuous operation. System is AIS 3G and...
Read More »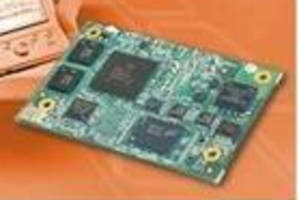 Optimizing embedded system functionality, CM-T3530 offers range of multimedia, connectivity, and storage features. It leverages TI OMAP3503/OMAP3530 with Cortex-A8 core at 720 MHz, up to 256 MB DDR, up to 512 MB flash disk, resistive touchscreen controller, and 3D and video decoding acceleration. Miniature multimedia-ready system also features LCD interface with resolution support up 1,400 x...
Read More »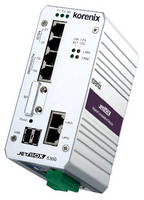 JetBox 5300-w is an embedded Linux computer with low power consumption and -40-80°C wide operating temperature specifically designed to provide advanced network performance in front-end industrial control applications. The embedded Linux-based computer acts as an outstanding network platform and provides efficient and reliable data transmission through its flexible interface, including 4 Serial,...
Read More »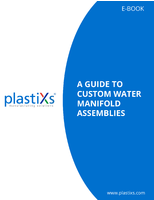 This white paper provides a guide to custom water manifold assemblies.
Read More »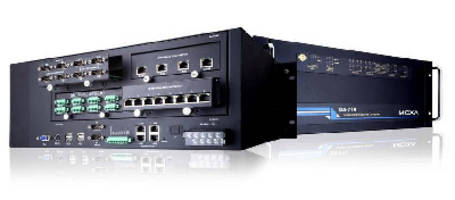 Featuring 19 in. 4U form factor, Model DA-710 is based on Intel x86 processor and supports USB, VGA, and CompactFlash. Fanless computer is equipped with 4 Ethernet ports, 2 RS-232 serial ports, and 4 PCI slots, which accommodate assorted expansion modules. Offering 100/240 Vac/Vdc dual power inputs, Model DA-710 supports redundant applications to ensure continuous operation. Unit runs Linux,...
Read More »
Fully integrated, standards-based Kontron form factors reduce embedded system development costs and speed time-to-market Poway, CA, January 27, 2010 - Kontron today announced the integration of the new Intel® Core(TM) i7 processor across many of the company's popular embedded platforms including AdvancedMC(TM), CompactPCI®, COM Express(TM) and VPX. As a leader in standards-based and custom...
Read More »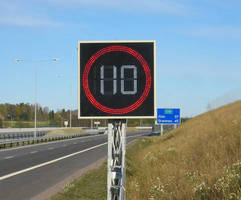 Scandisign, a member of Norway-'s SafeRoad Group, is one of the leading suppliers of LED-based traffic signs and energy effective illuminated signs for multi-story car parks and airports. Its customers often require products which communicate in various ways. By integrating Anybus-IC from HMS Industrial networks in its traffic signs, the group has ensured a short time to market and a flexible,...
Read More »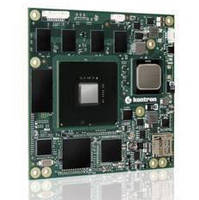 Measuring 95 x 95 mm, microETXexpress-®-XL has shock- and vibration-resistant design with soldered processor, chipset, and RAM. It consumes 5-8 W and enables passive cooling without fan. Based on Intel® Atom(TM) processor Z520PT, COM Express(TM) Type 2 module includes 2 GB of DDR2 memory as well as GbE, Serial ATA, PATA, and 8 USB 2.0 ports, and 2 PCI-Express x1 lanes and PCI. It also has...
Read More »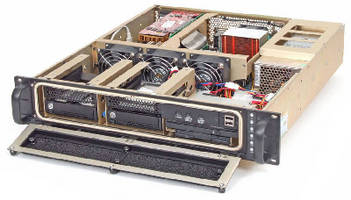 Featuring .090 in. 5052-H32 aluminum chassis and .250 in. milled solid aluminum front panel, M2U-20A COTS Plus Computer is suited for rugged military and industrial applications. Unit accommodates ATX motherboard and includes 3 I/O card slots, four 2 -½ in. removable drive bays with shock mounts, slim line DVD and floppy with 2 front panel USB ports, and three 80 x 38 mm cooling fans. Single or...
Read More »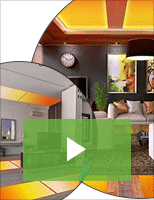 Carbontec's paper-thin radiant heating systems reduce energy consumption costs by warming the building surfaces instead of controlling air temperature. Check out our video to learn more.
Read More »