Single Board Computer features FPGA-based VME to PCIe bridge.
Press Release Summary: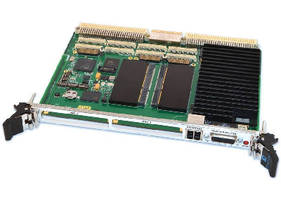 Based on Intel® Celeron® 2002E processor and 6U VME64X VMEbus form factor, Model XVME-6700 utilizes Intel 8-Series QM87 PCH chipset for extensive I/O support. Two ruggedized SODIMMs offer 8 GB or optional 16 GB of high-speed DDR3L removable memory plus 8 GB of flash memory. Air-cooled XVME-6700 also features dual PMC/XMC sites, DVI-D display, and programmable CPU power limits for heat-sensitive applications. Extended temperature models are available for -40 to +75°C operation.
---
Original Press Release:

New 6U VME Single Board Computer Features an Intel® Celeron® CPU



Acromag's new 6U VME single board computer features a FPGA-based VME to PCIe-bridge that will extend the life of your VME system for cost-sensitive applications.



Wixom, MI – Acromag's XVME-6700 is a high-performance 6U VME single board computer based on the Intel® Celeron® 2002E processor and utilizes the Intel 8-Series QM87 QM87 PCH chipset for extensive I/O support. Two ruggedized SODIMMs offer 8GB or optional 16GB of high-speed DDR3L removable memory plus 8GB of flash memory. The air-cooled XVME-6700 features dual PMC/XMC sites, DVI-D display, and programmable CPU power limits for heat sensitive applications. Expansion capabilities for further customization is available. VxWorks®, Linux® and Windows 7+ software support, ROHS compliance and extended temperature options are available.



"The XVME-6700 product family is an excellent choice for new or tech refresh VME-based applications. Not only does it properly resolve the obsolescence of the TSI-148 VME interface chip, it provides the customer with an up-to-date product for at least another 7 years" stated Russell Nieves, Acromag's Director of Embedded sales. "The 2-year standard warranty and long term availability with managed life cycles ensures long-term success for your projects."



The XVME-6700 is a single board computer module that uses an Intel® Celeron® processor and the 6U VME64X VMEbus form factor. The board can support either one or two DDR3L ECC SODIMMs, for a total of up to 16GB. The SODIMMs are firmly attached to the module with screws and are surrounded by heat sink material to provide a mechanically and thermally robust mounting mechanism. Extended temperature models are available for operating in a -40°C to +75°C range. The two PMC/XMC sites can be used in any combination. An optional P0 connector allows two Gigabit Ethernet connections. Forego one PMC/XMC module and add the optional XBRD-9060 I/O expander module and increase I/O on the front panel and add two SSD mSATA drives. Also optional is the XVME-9640 rear-transition module for easy access to all P2 connector's I/O signals.



About Acromag

Founded in 1957, Acromag, Inc. designs and manufactures hi-tech industrial electronics. They are an international corporation headquartered near Detroit, Michigan with a global network of sales representatives and distributors. Acromag is focused on developing embedded computing solutions that provide the best long term value in the industry. Acromag offers a complete line of embedded computing and I/O solutions including general purpose I/O boards, single-board computers, FPGA modules, embedded computers, COM Express products, mezzanine modules, wiring accessories, and software. Industries served include military, aerospace, manufacturing, transportation, utilities, and scientific research laboratories.



For more information about Acromag products, call Inside Sales at (248) 295-0310 or Marketing Communications at (248) 295-0866. The web site is www.acromag.com.



All trademarks are the property of their respective owners.



Editorial:

Karen Haldenwanger

Mktg. Mgr.



[email protected]