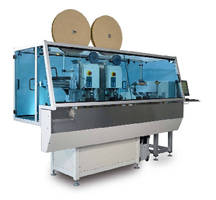 Built from modular components, TransferModule 6000 includes cable transport system, transfer shuttles, transfer chain, cable loading/unloading stations, control system, and PC-based user interface. Stations can perform stripping, tinning, sealing, shield flaring, and micro-flame soldering, as well as ultrasonic and resistance welding, connector housing insertion, and electrical testing. Typical...
Read More »
IDEX Sanitary (Quadro Engineering Corp./Wright Flow Technologies) - Booth No.: 736, will be showcasing their full range of solids/liquids processing solutions at Interphex 2009, in the Jacob K. Javits Convention Center, NYC (March 17- 19, 2009). The Solids Division of Quadro Engineering Corp. will feature key technologies such as the Quadro® Underdriven Series, the new Quadro®...
Read More »
Offering mechanized method for working with Â-½ in. duct rods, hydraulically powered Duct Rod Pusher can push and pull forces up to 300 lb while moving at speeds up to 130 fpm. System comes with gasoline-driven power pack and hoses and is mounted on corrosion-resistant steel frame, which can be tilted at 30° angle to manhole. Electronic monitoring system measures both distance and...
Read More »
Motor Controller with Fault Indicator Light on Each Westfalia Conveyor YORK, Pa., February 9, 2009 - The Controls Department of Westfalia Technologies, Inc. (www.WestfaliaUSA.com) has been very proactive reconfiguring the design of conveyor controls for easier fault recognition and a shorter commissioning phase. Each Westfalia conveyor now has its own motor controller with a fault indicator...
Read More »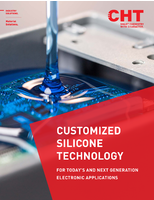 This white paper provides and in-depth overview into the customized silicone technology for electronic protection.
Read More »
New Meat Gripper Adheres to all Food Production Cleaning Requirements and is Approved by the USDA Glenville, New York - Jan 22, 2009 - Applied Robotics Inc., a leading global manufacturer of robotic end-of-arm tooling and connectivity solutions, announced today its newest gripper product designed specifically for handling meat and other fresh and frozen food products has been approved and...
Read More »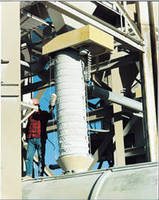 With internal ventilation design, dust free loading spouts capture airborne material. They can handle materials up to 4 in. across in excess of 400 cfm with vertical travel up to 20 ft. Features included are 3/60/230/460 Vac motor, reducer, chain and sprocket drive, molded polyethylene internal stacking cones, RoadStar® 18 outer shroud and fully wired and enclosed electricals. Units also...
Read More »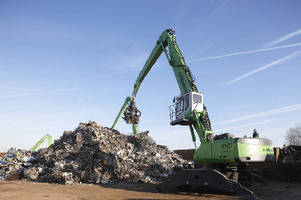 Powered by emissions-compliant 264 hp Cummins Tier II diesel engines, 835 and 840 D Series Machines are available as crawlers, pedestal-mounted machines, or electrically driven machines. Both include 25 kW magnet system, sliding door with adjacent catwalk, climate control system, and handrail on top of upper carriage for safety. Applications range from unloading and loading trucks with scrap to...
Read More »
Able to process RFID tags and barcodes, as well as reactivate electromagnetic security strips, 3-bin Intelligent Return and Sorter System comes with optional printer for receipts and 2 choices for user interface on induction unit. Classic version provides intuitive interface with buttons to start induction and, if desired, print receipt. Plus version comes with LCD touch screen that can provide...
Read More »
Westerlo, NY, February 18, 2009 - Hannay Reels announced today that it will exhibit at the Fire Department Instructors Conference (FDIC), April 23-25, 2009, at the Indiana Convention Center and Lucas Oil Stadium in Indianapolis, Ind. The company will feature a variety of reels for the firefighting and rescue industries at booth number 2033. Hannay Reels has set the standard of quality and...
Read More »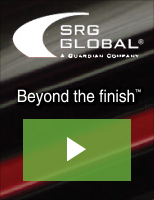 SRG Global's automotive coatings enhance the structural integrity of the finished part while also improving vehicle efficiency. Check out our video to learn more.
Read More »