Palisade Systems' Mature Content Monitoring and Filtering Technology Prevents Accidental or Malicious Transmission of Private Health Information AMES, Iowa, Oct. 10 / - Palisade Systems, a leading provider of data loss prevention (DLP) and compliance solutions, announced today that Heartland Health, an integrated health delivery system including a medical center, physician practices, foundation...
Read More »
Innovative offerings enhance the network lifecycle and promote more accurate, secure and efficient networks SANTA CLARA, Calif., Oct. 9 / / - Extreme Networks, Inc. (NASDAQ:EXTR) is extending the power of network Insight and Control to a new set of Enterprise solutions that are designed to enhance network longevity and to reduce costs associated with change and chaos. These products and services...
Read More »
Performance, Reliability, Scalability and Ease-of-Integration Lead Growing Business to Select Oracle® Database and Oracle Fusion Middleware REDWOOD SHORES, Calif., Oct. 10 / - Oracle today announced that Cadec Global, a provider of advanced fleet management systems, is using Oracle software as the foundation of its, newly launched software-as-a-service-based (SaaS) PowerVue fleet tracking...
Read More »
SUNNYVALE, Calif., Oct. 9 - SonicWALL, Inc. (NASDAQ:SNWL) today announced that its TZ 190 Wireless appliance has received CMP Channel's VARBusiness 2007 Tech Innovator Award in the security category. The fifth annual Tech Innovators Awards celebrate the most innovative products, people and personalities in the industry and highlight emerging products and technologies currently sold through the IT...
Read More »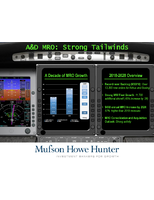 Check out this overview of the Maintenance, Repair and Operations (MRO) segment of the Aerospace and Defense (A&D) industry along with the factors impacting its continued growth.
Read More »
WATERTOWN, Conn., Sept. 25 - Siemon's line of MAX® Surface Mount boxes supports their 10G 6A(TM) F/UTP network cabling solution, allowing users to bring high-performance, screened category 6A MAX connectivity to areas requiring surface mount installation. In addition to 10G 6A F/UTP cabling solutions, these compact and easy-to-install products also support the entire range Siemon flat MAX...
Read More »
Pioneer of Centralized WLAN Gains Lead Position for WLAN Switch Units Sold SAN JOSE, Calif., Sept. 19 -- Motorola, Inc. (NYSE:MOT) today announced that it reached another milestone in the enterprise mobility market by selling its 100,000th wireless LAN (WLAN) switch, the most by any vendor in the market. Motorola - through its acquisition of Symbol Technologies - is an innovator and pioneer in...
Read More »
Teletrac Probe Data to Enhance NAVTEQ Traffic Solutions CHICAGO, Sept. 26 - NAVTEQ (NYSE:NVT), a leading global provider of digital map data for location-based solutions and vehicle navigation, announced today an agreement with Teletrac, Inc., a leading supplier of fleet management, navigation and vehicle diagnostic solutions, to provide NAVTEQ map data and NAVTEQ Traffic for Teletrac's Fleet...
Read More »
Newly Announced Auto-Provisioning Feature Simplifies Deployment EATONTOWN, N.J., Sept. 26 - Quintum Technologies, an INC. 500 company and VoIP innovator, announced today that Telanetix Inc.'s AccessLine unit, a leader in providing hosted communications and managed voice services to the Small to Medium Business (SMB) market place, has selected Quintum's Tenors as gateways of choice to be placed on...
Read More »
Network upgrade will provide multicast support and guaranteed network uptime Switches installed in London headquarters London (September 12, 2007) - Foundry Networks®, Inc., a performance and total solutions leader for end-to-end switching and routing, today announces that ODL Securities Limited, the London-based equities, derivatives and FX trading house, has installed Foundry switches to...
Read More »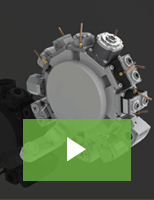 Von Ruden's driven tools are designed to each specific machine in order to maximize performance. All of our tools are performance tested and made in the USA per ISO 9001:2015 standards. Check out our video to learn more.
Read More »