Targus Screen Protector with Clear View technology protects Apple iPad-® and other touchscreen devices such as smartphones, e-Readers, and laptops from fingerprints, scratches, and smudges. Product features antiiglare treatment and adhesive that prevents bubbles and peeling. Microscopic landscape of ridges and valleys helps dissipate fingerprint oils and minimize glare so screen can be viewed...
Read More »
Model TDD-9000 is soft black velvet blanket with gel-like liquid inside that is able to dissipate heat. When used with active laptop for 40 min, computer temperature is reduced by 17-
Read More »
Comprised of mini accessories, Netbook Accessory Kit includes Slipskin Peel Mini-Netbook Case measuring 11.25 x 0.98 x 8.75 in. and made of neoprene to shield netbook from scratches and dust. Ultra Mini USB 2.0 Hub lets user simultaneously connect up to 4 devices to netbook and offers transfer rate of 480 Mbps. Featuring standard USB connection, Ultra Mini Retractable Optical Mouse measures 3 x...
Read More »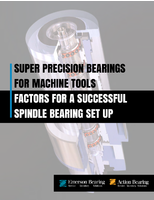 This white paper provides an in-depth overview into choosing the right bearing for machine tools.
Read More »
Supporting PICMG backplanes up to 15 slots and ATX motherboard, AX61460 provides front access to 2 USB ports and one each of 5.25 and 3.5 in. drive bays. It has 2 internal 3.5 in. drive bays for storage, and offers power options from single PS/2 300 W/400 W to redundant 400 W power supplies. Measuring 19 in., unit also features 2 LEDs to show power status and HDD activity, clamp bar with...
Read More »
Capable of performing data erasure at multiple sites, Blancco Kit is portable end-of-lifecycle solution that comes in carry-on aluminum case. Included hardware and server platform uses specially developed management console software for erasure client license management, label printing with included printer, report sharing and database backup. Kit includes necessary networking cables for multiple...
Read More »
Voyager Quad Interface SATA I/II Hard Drive Docking Station turns any 2.5 or 3.5 in. SATA I/II hard drive up to 2.0 TB into fully bootable and hot-swappable external drive solution. Enabling read/write data speeds of up to 3.0 Gbps, it supports FireWire-® 800/400, USB 2.0, and eSATA interfaces. Device measures 5.28 x 3.70 x 2.68 in. and weighs 1.35 lb (without drive) and includes 2-color status...
Read More »
Laptop Cool Table includes 2 fans to help cool laptop battery, each are powered by and connect via USB cord to laptop. Legs work independently and can be left folded or extended vertically and horizontally. Lightweight, compact unit is constructed of sturdy tubular aluminum and plexiglass and can be used indoors, outdoors, and at home or office.
Read More »
Suited for laptop users who need to connect to another computer, Laptop USB KVM Switch offers plug-and-play functionality for control as well as seamless file transfer without need for manual software installation. It adjusts resolution of remote desktop window to match local computer monitor, and desktop scaling lets user toggle remote desktop window between full screen and window view. Switch...
Read More »
Featuring programmable buttons and symmetrical shape for left- or right-handed use, Switch Mouse ensures comfortable operation for all users. Ergonomic design has V-shaped base that lets users mouse at natural 45-
Read More »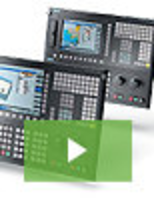 Siemens new SINUMERIK 828D ADVANCED, SINUMERIK 828D and SINUMERIK 828D BASIC sets the standard for productivity enhancements of turning and milling operations on standardized machines and simplify the automation of grinding machines. See our video to learn all about it.
Read More »