Wireless Slate brings mobile interactivity to classrooms.
Press Release Summary: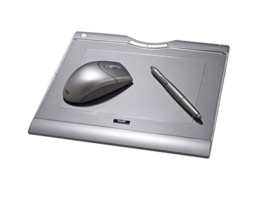 AirLiner(TM) WS100 Wireless Slate enables teachers and students to control computer and digital content from anywhere in classroom via Bluetooth® connection. It includes SMART Board(TM) software and can be used with SMART board interactive whiteboards and Sympodium(TM) interactive pen displays, or computer and projector. Each point on 6 x 8 in. active area has matching point on computer display, so when users move pen over wireless slate, movement is mirrored on whiteboard or projector screen.
---
Original Press Release:
SMART's Wireless Slate Brings Mobile Interactivity to Classrooms
AirLiner WS100 wireless slate ships with SMART Board software for integrated education solution CALGARY, Alberta --- May 2, 2005 --- SMART Technologies Inc. announces the launch of the AirLiner(TM) WS100 wireless slate. Teachers and students can now enjoy the freedom of controlling their computer and digital content from the AirLiner wireless slate anywhere in the classroom via its Bluetooth® connection. The AirLiner wireless slate ships with SMART Board(TM) software and can be used with SMART Board interactive whiteboards and Sympodium(TM) interactive pen displays, or independently with a computer and projector. Educators can move about a room as they control applications and write or draw in digital ink while students follow along by watching the projected image. Multiple AirLiner wireless slate users can also write at the same time, improving collaboration between the teacher and students. Every point on an AirLiner wireless slate's 6" (15.2-cm) x 8" (20.3-cm) active area has a matching point on the computer display, so when users move the pen over the wireless slate, the movement is mirrored on the interactive whiteboard or projector screen. The WS100 ships with a battery-free tethered pen, a battery-free wireless mouse, a rechargeable lithium-polymer battery, a power cord, a USB Bluetooth adapter for Microsoft Windows® and Mac OS® operating systems, and SMART Board software. "As interactive technology makes its way into more classrooms, educators are looking for products that fit their teaching styles," says Nancy Knowlton, SMART's president and co-CEO. "Our customers now have the flexibility to move around the classroom with the AirLiner wireless slate, while still being able to access all the features of their SMART Board interactive whiteboard." Features Pen and function buttons: Programmable buttons on the pen and above the active screen area provide quick access to commonly used applications and features, such as Notebook software, pen tools and the eraser. Pen-tool icon strip: Provides access to black, blue, red and green digital ink, an eraser and other tools, such as the on-screen keyboard, screen capture and right-click. Battery-free tethered pen: The pen is always ready for use, requiring no maintenance or charging. Bluetooth adapter: The AirLiner wireless slate includes a Bluetooth adapter that communicates to the computer. Rechargeable lithium-polymer battery: The WS100 will operate for up to 25 hours on a single charge. Multiple inputs: Users of the AirLiner wireless slate and a SMART Board interactive whiteboard can write simultaneously in digital ink. Pricing and availability The AirLiner WS100 wireless slate is now shipping with SMART Board software at a suggested retail price of US$699. Not-for-profit educational institutions may qualify for a grant through the SMARTer Kids(TM) Foundation, reducing the suggested price to US$489. For more information, specifications or authorized resellers, visit www.smarttech.com or call 1.888.42.SMART. For grant inquiries, visit the SMARTer Kids Foundation at www.smarterkids.org or call 403.228.8565. About SMART Board interactive whiteboards The SMART Board interactive whiteboard is a large, touch-sensitive display. Connected to a computer and projector, the interactive whiteboard is like a giant computer screen that students and teachers simply touch to operate. Using their finger or a pen as a mouse, teachers and students can access and control any computer application, file or multimedia platform, including the Internet, CD-ROMs and DVDs. They can also write over applications in digital ink, then save their work for future study and review. The SMART Board interactive whiteboard engages students with diverse learning styles by providing both immediate access to a wide range of digital materials and a common focus for the entire class - not something easily achieved with other technologies. It is the number one choice among primary and secondary school educators in more than 75 countries worldwide because the pioneering software interface captures the imagination of students of all backgrounds and abilities in order to help them learn together, understand better and achieve more. For more information, visit www.smarttech.com/smartboard. About SMART SMART Technologies Inc. is both the industry pioneer and global market leader in easy-to-use interactive whiteboards and other group collaboration tools. SMART products include the family of award-winning SMART Board interactive whiteboards, as well as interactive pen displays, interactive digital signage, multimedia cabinets, wireless slates and software. Using SMART products, groups can access and share the information they need to meet, teach, train and present. SMART has been issued and maintains a broad portfolio of patents with numerous other U.S., Canadian and foreign patents pending. SMART's education customers include New York City Board of Education (U.S.), Oxford University (UK), Tokyo Nampei Senior High School (Japan), Barnier Public School (Australia), University of Ottawa (Canada), United World College (Singapore), Stephen-Hawking-Schule Neckargemuend (Germany), Florida School for the Deaf and the Blind (U.S.) and Harvard University (U.S.). SMART is a private company founded in 1987. Employing more than 600 people, SMART is headquartered in Calgary, Alberta, Canada, with assembly facilities in Ottawa and Calgary, and offices in Bonn, Tokyo, New York City and Washington, D.C. In 1992, SMART formed a strategic alliance with Intel® Corporation that resulted in joint product development and marketing efforts, and Intel's equity ownership in SMART. SMART products are sold through dealers across North America and distributors worldwide. For more information, visit www.smarttech.com. For more information: Andrew Exner Public Relations Specialist SMART Technologies Inc. 1207 - 11th Avenue SW, Suite 300 Calgary, AB T3C 0M5 CANADA Phone +1.403.802.3340 Fax +1.403.228.2500 AndrewExner@smarttech.com www.smarttech.com
More from Thermal & Heating Equipment