1060 Corporate Center Dr.
Oconomowoc, WI 53066
SoundPro-® SE and DL Hand Held Sound Level Meter and Real-Time Frequency Analyzer Series, in combination with QuestSuite-® Professional II Applications Software, perform advanced noise analyses. Multi-lingual units feature USB communications for programming and data transfers, and meter data may also be stored on non-proprietary, removable SD memory card. Both series incorporate 2 virtual sound...
Read More »
Model VI-400Pro and QuestSuite Professional II Applications Software provide real-time, 1/1- and 1/3-octave frequency analysis of hand-arm, whole body, and machine vibration. Able to analyze up to 4 input channels simultaneously, handheld VI-400Pro uses 3 channels for tri-axial vibration measurements and forth to analyze sound or additional axis of vibration. Software provides tools to explore...
Read More »
NoisePro-® Series, combined with QuestSuite-® Professional application software, enables users to proactively manage hearing loss caused by occupational noise over-exposure. While keeping history record, monitoring system provides real-time compliance indicators and optional vibrating alarms to promote self-management of noise exposures and HPD use. Analysis tools enable evaluation of...
Read More »
SoundPatrol DP Series enables field testing of noise levels and documentation of measurement results in order to support citations. Equipped with portable, digital printer, sound level meters let users perform pre-test field calibration, take valid noise sample, perform post-test calibration check, and generate complete printed results.
Read More »
Resistant to chemicals and particulate, Outdoor Measurement System Conversion Kit for SoundPro DLX Hand Held Sound Level Meter facilitates capture of environmental noise data. Weatherproof case provides environmental protection, and battery provides power for up to one week of continuous operation. To protect against theft and vandalism, design enables use of padlocks and cables to secure unit to...
Read More »
Using real-time frequency analysis, hand-held SoundPro-® DLX is built around digital signal processor platform and color graphics PDA-style user interface with backlighting and adjustable screen contrast. Sound Curve Capture utility builds libraries of spectral footprints allowing comparison of prior measurements to subsequent live measurements. SoundPro DLX will connect to wired or wireless...
Read More »
QuestSuite-® Professional Version v1.6 is designed for collection, analysis, and reporting of exposures to workplace and environmental hazards such as noise, vibration, heat stress, indoor air quality, and toxic/combustible gases. Incorporated calculator lets users determine indoor air quality and adequate air exchange rates to meet ASTM International Standard E741-00. Software enables users to...
Read More »
NetLink II Web-Based Heat Stress Monitoring System allows users to access heat stress measurement data via web browser and Internet connection. System combines smart web-enablers with QUESTemp-
Read More »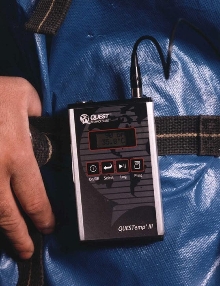 Compact QUESTemp-® III miniature datalogging instrument monitors individual physiological strain in response to heat stress. System includes sensor belt assembly worn around chest containing disk temperature sensor, heart rate sensor, and audible/visible indicators.
Read More »